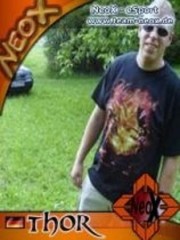 Contacts & Buddies

MoerchenOp..
Stek0
Nintendooo..
John1337
Face
Dreadlow
Name
Thorsten Bühler
Nick
Thorgerman
Member since
12/02/09
Age / Gender
34 Years / male
Nationality
 Germany
Country, City
Germany, Bondorf  

(71xxx)

Occupation
Maurer
Employer / University / School
Schwörer Bausysteme
Main team
NeoX - eSport .Main
Homepage
http://www.ath-clan.com/
Meine Kampfhymne
Ein Krieger,dessen Mut ist wie ein Schwert,doch die größte Waffe ist sein Herz!

The Only Revolution Is The Evolution!  more...  
Level & Awards
Clubs
Contact