TLO-NaDa-Showmatch to open Season V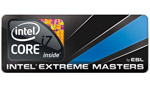 Dario 'TheLittleOne' Wünsch vs. Yun-Yeol 'NaDa' Lee
On Saturday morning at 10:45 CET the fifth Intel Extreme Masters season will have its offical opening ceremony live in front of thousands of spectators broadcasted by ESL TV. Michal 'Carmac' Blicharz, Product Manager of the tournament, and George Woo, Intel's Marketing Manager of the Intel Extreme Masters, will unveil Season V's trophy.
On top of that we will present a great showmatch at the Intel Extreme Masters stage. Team Liquid member


Dario 'TheLittleOne' Wünsch from Germany will clash with Korea's StarCraft legend


Yun-Yeol 'NaDa' Lee from Wemade Fox in an epic best of three StarCraft II showmatch. NaDa is known as the best and most successful SC:BW player of all times by achieving the highest KeSPA score of any player.
ESL TV will show the opening ceremony and the showmatch, while the fourth Quake Live quarter final will be commentated live at GLHF.tv. Have a look at the
schedule
and make your choice!
otacon
, Friday, 20/08/10 12:41


Information:
info write comment not allowed