Groups of Global Challenge gamescom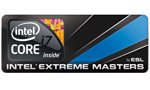 Who will survive the group stage?
The groups for Intel Extreme Masters' second Global Challenge have been drawn. 32 top-notch players will compete at gamescom for glory, honour and a prize pot of $25,000 total.
It's going to be the first major offline tournament in StarCraft II's history. Each group includes each race of the StarCraft universe, in other words we will see many varied match-ups, countless strategies and will get a feeling of the current balance in the game. Be prepared for real time strategy at its best!
Global Challenge gamescom StarCraft II Groups
Next to StarCraft there will be 16 Quake Live duelers fighting for a total of $10,000! Will anyone be able to beat the reigning World Champion rapha, who also won last year's Global Challenge at gamescom? Unlike Cooller and noctis, DaHang managed to win against the American SK Gaming star in a final match before. But can he stand the European rivalry and make it to the Grand Final at gamescom?
Global Challenge gamescom Quake Live Groups
The two remaining participants in Quake Live will be determined today. A lot of famous and strong players such as the Asian Champion

Fan Zhibo
signed up for the open
Global Challenge Qualifier
, which starts at 18:00 CET this evening.
otacon
, Wednesday, 11/08/10 06:22


Information:
info write comment not allowed