Archive ESL World Intel Extreme Masters Season V gamescom 2010
StarCraft II invitees for gamescom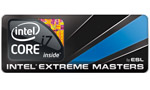 IdrA, White-Ra, TLO and many more!
Six players already qualified for Intel Extreme Masters' first StarCraft II tournament via two ESL GO4SC2 Cups. Now it's time to present the ten remaining ones, who were directly invited. These sixteen gosus will compete for a total prize purse of $15,000 in about two weeks live at gamescom, Germany.
Among the Global Challenge gamescom participants you find some of the best Western SC:BW actors such as the American Zerg IdrA, Warcraft 3 legends such as MaDFroG from Sweden or new faces, who entered the international spotlight of eSports for the first time with the StarCraft II Beta such as Germany's random-hero TheLittleOne.

Qualified via ESL Go4SC2 Cup #24

Qualified via ESL Go4SC2 Cup #25

Invited to Global Challenge gamescom
otacon
, Monday, 02/08/10 14:31


Information:
info write comment not allowed