Archive ESL World Intel Extreme Masters Season IV Gamescom 09
European season starts with National Cups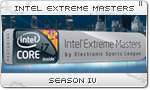 European season starts with National Cups
It's time to start practicing, as Intel Extreme Masters European National Cups in Counter-Strike will be starting in mid August to determine the national representatives for the Intel Extreme Masters European Championship. Here you find all the information you need in order to partake in your national qualifications.
First stage of Counter-Strike is nationally based
If you are not aware of the system of Intel Extreme Masters, it always starts out on a national basis. Based on previous seasons, all countries have a number of slots to fight for in the international qualifiers. The international qualifiers consist of two rounds (QR1, QR2), where the teams that manage to win their matches will head into the European Counter-Strike Championship.
ESL Pro Series or National Cups
Just like in previous seasons, ESL Pro Series serves as a nationally based ranking, in which the top teams will automatically claim the international qualifier spots that the particular country claimed. If your country did not finish an EPS season including Counter-Strike this year (2009), you will be able to win championship title in your National Cup. These cups will start in
mid August
and last until
mid September
.
Where do I get more information about my national qualification?
This is information that will be handed out in your country section at ESL. Keep an eye out there to see when your nation starts the qualifiers!
Country rankings
Based on previous seasons, all countries that will partake are ranked and have different numbers of slots in the Qualifier Rounds (QR1, QR2) and some of the best countries even get immediate spots in the Intel Extreme Masters European Championship. For particularly small countries, an international qualifier will be held. See the full country rankings
here
.
36 best to the European Championships
In mid September, we are all set to head into the European Championships consisting of the 36 best teams across the continent. In six groups of six, the twelve best teams will advance to the finals taking place offline!
Genie
, Friday, 07/08/09 11:17

No comments yet.

Information:
info write comment not allowed