Archive ESL World Intel Extreme Masters Season IV Gamescom 09
GamesCom opens fourth Intel Extreme Masters season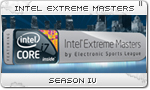 GamesCom has officially been announced as the host for the first Global Challenge of the next Intel Extreme Masters season consisting of five events, and $500,000 in total prize money. Teams of World of WarCraft, Counter-Strike and Quake Live will battle it out in Cologne, Germany, from August 19th to 23rd, for a total of $21,000!
GamesCom hosts first Global Challenge
It is now official that the first Global Challenge will take place in the Intel Gamezone during
GamesCom
in Cologne, Germany, from August 19th to 23rd. During the Thursday and Friday,
World of WarCraft
professionals will battle it out for the $10,000 prize money that is at stake.
Global Challenge Cologne WoW Participants


Payback time


Landoo


holding places


NOP


iNNERFiRE


plan B.wow


aAa nawaK


Ensidia

Group Stage

Bracket
$1,000 QuakeLive Intel Extreme Masters Pro/Am Challenge
Apart from our former titles CS and WoW, we will also host the QuakeLive Intel Extreme Masters Pro/Am Challenge, where
Quake Live
fanatics from the crowd can participate. Winner takes $1,000 for his troubles.

Bracket

Invited Players
Counter-Strike SuperCup
Aside of World of WarCraft, the Intel Extreme Masters Super Cup in Counter-Strike take place on Sunday August 23rd. Four of the best teams in the world will go up in a challenge to determine the best team! Apart from the honor of being the best, the challenge includes an appealing $10,000 in cash prizes.
The four invited teams are the IEM World Champions (
fnatic
), IEM European Champions (
mTw
), hosting nation champions (
mousesports
) and the highest ranked international team (
SK Gaming
).

Bracket
Season 4 to offer $500,000 prize purse
Additionally, information about the fourth season of Intel Extreme Masters has finally arrived, as it is now determined that a total prize pool of $500,000 will be delivered for the triple continental eSports league.
The Intel Extreme Masters season will consist of at least
six
events, including the European, Asian and American Championships, at two or more Global Challenges and the World Championship in 2010.
Intel Extreme Masters at GamesCom
Dates: August 19th-23rd
Prize Pool: $21,000
Games: World of WarCraft, Counter-Strike, Quake Live
Venue: ESL Intel Gamezone - Hall 09.1 Booth C061a
GamesCom, Cologne, Germany
Coverage
Previously announced tournament that will take place during GamesCom includes
European Nations Championship
and
EMS Female 1.6 Finals
. Slide over to the coverage with the link below to find out more about brackets, schedules and participants!
Genie
, Wednesday, 05/08/09 16:27


Information:
info write comment not allowed