Archive ESL World Intel Extreme Masters Season IV American Championship Finals
Isaac 'Azael' Cummings-Bentley speaks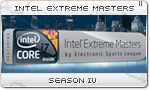 An Evil Genius from the World of Warcraft
How well prepared are you for the American Championship? Should we consider your team as the favourites of the competition?

Isaac '2868114' Cummings-Bentley:
We've prepared quite well for the tournament, although we've had some issues with getting in practice due to the tournament realms being unavailable. Pookz has also been quite busy so there are some things we would like to have more time to prepare for as we're a very new team and there's still a ton of room for us to improve.
As for us being the favourite's, it's hard to predict simply because there will be a new patch which hurts Destruction Warlocks a fair bit, and that's mainly what I play for our setup. The patch also will mix things up with the will of the forsaken change, and you also have to keep in mind that our setup (Mage / Lock / Shaman) is very different in Season 5 gear than it is on live. That said, we're confident going into the tournament and know if we play our best we can win but I wouldn't say we're the favourite.
What are your team's main strengths?
I think that as far as players go, we all are able to keep very open minded and overall have a positive outlook on things while practicing which makes it far easier to come up with new strategies and ways around tough matchups. I have always kind of been my teams leader ingame as far as calling targets, making strategies etc, and now we have the addition of Pookz who is also a great ingame leader which has really helped our game. We both have a unique perspective on the game and are able to see opportunities for swaps that the other player may not notice, and we both trust each other enough to know that any swap we might make will be a good one. Tenderloin as our healer really just has the best attitude of anyone I have played with in competitive gaming, and is always seeking ways to improve his play through specs, gear changes, position or any other slight tweaks and that has really helped to make us a strong team.
As far as the setup of our teams setup although many would argue that it's the really high burst we're able to achieve, I would say that our biggest strength is the amount of control and interrupts our team posseses. Damage is really toned down in tournament gear, and the Conflagrate nerf just continues that trend, so in the tournament we'll be relying far more on chaining interrupts / silences and crowd control to get our kills.
Which comps and which teams are the most dangerous for your team in Edmonton?
Well there will be some great teams competing and the changes will make things very unpredictable so we would be foolish to underestimate any teams. However if I were to choose one team that everyone has to look out for it would have to be Check 6 simply because they have been doing very well at the last few tournaments and run one of the strongest / easiest setups to play. It's a comp which is very forgiving of mistakes and one against which you cannot afford to make any if you want to have any hope of winning - a very tough combination to play against on LAN.
Who do you expect to qualify to the World Championship in 2010?
If I were to guess I would say EG, Check 6, Fnatic, Complexity. Although Complexity may be unable to attend with their original roster, and SK US has a strong team as well so they could easily be in the top 4.
Considering the history of American Intel Extreme Masters events, we can expect some raging. If you were to place money on someone to nerd rage in Canada, who would you bet on?
Well, there is some serious hate between a few of the teams so it wouldn't shock me to see something happen. If I had to bet on there being raging in one match it would be the one between Loaded.WoW and our team. There is some history between Tenderloin and their priest Rgostic as they were teammates for the Blizzard Regional Tournament where Rgostic decided to not show up without any warning to his team. They arrived in Germany for the North American Regionals and he was nowhere to be found, something that definitely warrants some anger from Tenderloin as far as I'm concerned.
While your new comp is quite popular on live-servers we haven't seen it so far in a tournament. Why do you think you can make it work and why has no one done it before?
I think that the reason you're seeing so many Wizard Cleave teams on live realms is simply because of gear scaling and set bonuses. There's the 10% Immolate damage bonus, 20% Lava Burst bonus as well as insane PvE Trinkets which really push burst over the top and can lead to instant kills with crits.
No one has brought Wizard Cleave to a tournament simply because the relative strength of it is so much lower in Season 5 gear, and many of the setups really would not work in that environment. I think the difference between most Wizard Cleave setups and ours is that we have so much control that we don't need to kill someone instantly in order to win a match. That's not to say that gear scaling doesn't help our setup, because it definitely does and we'll be in tough against the setups and teams we're going to face in Edmonton.
We believe that we can make it work though because we have an exceptional combination of players, what we believe to the be the strongest variation of double caster teams for tournaments and the desire to win.
Are you prepared to dish out something else if your comp doesn't work?
We have no need for other setups, and are confident in our ability to win with what we have as long as we play up to potential.
You seem to prefer to spec Affliction instead of Destruction - why?
Affliction is simply a more fluid playstyle, which really makes it fun for me. Your mobility is very high and you're able to be more in control of the match as an Affliction Warlock because of that as long as you're playing the right setups. It's also a very consistent spec which I enjoy because you're not depending on crits, procs or anything else to win the match. I also just enjoy playing things differently than other players and that's the same reason that I was playing Destruction before any of the buffs when everyone was still playing UA, and it's the same reason I was playing UA now while most people were playing Destruction. Knowing the strengths and weaknesses of all your specs is really an advantage and being able to seemlessly swap between them is of great benefit to your team.
Asian teams were in the final at the last Intel Extreme Masters World Championship. Do you think they will be the strongest opponents again?
It's hard to say as the strongest Asian teams have traditionally been RMP and that setup will likely be in tough against many teams with the Will of the Forsaken nerf in 3.3. I think that all of the continents have very strong teams and I really am hoping to see a much more even representation of that than what we saw last year. It'd be cool to have one North American, one European, and one Asian team in the top 3 this year for sure.
How do you think the continents stack up against each other in WoW?
This is something which is endlessly debated, and to be honest I think it's a pointless discussion. There are great teams, and great players everywhere and I see no reason to attempt to quantify who is better than who as it's largely a matter of opinion. At every regional tournament there are some very strong teams and there are also teams which are clearly of a lower calibre than those at the top. Each continent can only hope that their best players are playing the the right setups with the right teammates so that they can be properly represented at the Global Finals.
//Interview by

Michal '
Carmac
' Blicharz
The Intel Extreme Masters American Championship will take place in Edmonton, Canada on December 11-13. Visit this page for more interviews, video coverage, live streaming, up to date scores and more.

Interview with

gellehsak

Interview with

Vo0
otacon
, Wednesday, 09/12/09 05:28

No comments yet.

Information:
info write comment not allowed