Archive ESL World Intel Extreme Masters Season IV American Championship Finals
Masters: Andrew "gellehsak" Ryder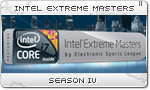 gellehsak talking about Edmonton and his chances there
Ahead of the Intel Extreme Masters American Championship, Andrew "gellehsak" Ryder is one of Canada's biggest hopes at having one of their representatives in the World Championship. In this interview, he talks about his chances at progressing to the playoffs, his team mate Tim "DaHanG" Fogarty and the tournament in general.

ESL: How well prepared are you for the American Championship?

As well prepared as I can be! I'm trying to get as much practice in as possible in order to have a decent showing in Edmonton, but usually that's limited to staying up late at night just to get a few games in. 

ESL: What does a "decent showing" mean for you?

Well, looking at the groups I'm obviously not a favorite to win, or even place second. Anyone will tell you that in a heartbeat because I have only started playing seriously again since after QuakeCon [in August]. I feel that a decent showing for me would be along the lines of keeping the games close, maybe even taking a map from DaHanG or rapha. I do feel that I surprised a few people with my play against DKT. I expect to finish no lower than third in the group, but won't be upset if I don't advance given the talent I have to face.

ESL: Who do you consider the number one player on the continent?

You could ask that question plenty of ways. If you were to ask me the number one proven player, I'd easily say rapha. However, I truly feel, putting aside any bias, that DaHanG will eventually be the player to beat on the continent. The way I see it is that it is inevitable for the game to retain maps like DM6 and DM13 forever, assuming id Software is in development or at least has plans for new maps.

DaHanG is the type of player that can adjust to a situation or scenario without breaking a sweat, whether it be a new map or a new gameplay change. He has probably the least QL duel experience as opposed to players like rapha, Cooller, Cypher, and other top players, yet is able to compete with them on their terms. I feel that his biggest downfall is just the vast experience that players have vs his inexperience on the older maps and unfortunately that trumps his ability to adapt to a situation quickly.

ESL: When will DaHanG be the player to beat, then? Will it be in Edmonton already?

He could beat rapha in his current form, there is no doubt in my mind. However, I feel DaHanG will really shine when we start porting over to newer maps.

ESL: Are you saying that you can't make up with intelligence what you lack in experience?

Not necessarily. Those skills both go hand-in-hand in a way. You can have experience and intelligence, but what really matters (and this is what most of the players that have been playing for years have that newer players lack) is being able to apply that intelligence to experienced play. DaHanG is a smart player, but having lesser experience on older maps hurts him when it comes to applying his knowledge of the game against his opponent

ESL: Spart1e started very late in Quake 3 but had no problem placing highly in major international events. Isn't complaining about old maps more like feeling sorry for yourself, then?

Spart1e definitely has the talent to win a tournament, just like plenty of other players do. In general, the intelligence vs/+ experience "formula" is right, however there are dozens of other factors, such as nerves, physical well-being, mental state-of-mind, confidence, raw aim, etc. that all come into play to form a player and basically dictate how well they will play against their opponent.

Spart1e could have played the tournament of his life in Athens [at the ESWC Masters in 2008), and we may never see him place on the podium ever again, just because everything fell in to place in EVERY column that builds a player and how well they will perform. I even believe eating habits can positively or negatively effect a player. The fact of the matter is, though, is that we can't take the intelligence and experience argument as the be-all end-all for how players will perform.

We also can't disregard the fact that these are tournaments; anything that can happen, will happen somewhere down the timeline. No matter how a player feels or how inexperienced they are, they can still hit that magical factor - luck - and unexpectedly beat someone they were never intended to even match up against... I'll point to the recent Cooller vs zsx Intel Extreme Masters European Championship match.

ESL: How do you find QuakeLive yourself?

Quake Live is probably not my first choice for a competitive game, but so far I am enjoying my time with it. In fact, I'm not really sure if I enjoy Quake Live more, or if I just enjoy the chance for some competition again. I've pretty much missed going to tournaments or playing matches, and the opportunity just rolled around and I decided to stick with it and give it a shot. So far it is proving to be a good choice in my eyes, having played well enough to qualify and compete on the level of the best in the continent.

ESL: So what have you got to offer that would make you believe that you can beat rapha or DaHanG?

I don't believe I have anything really on the table that compares to them if you were to look at "assumed" skill vs skill. I'm just going to go in, play confident and cool, and hope I don't let their names get in the way of playing well. As long as I play a smart game, and maybe rely on a bit of luck, I could possibly win. But again, they are way above me on paper.

ESL: Do you see any chinks in their respective armors, though?

Nobody is perfect. I know I can win maps versus them, however the real test is being able to translate that into a tournament win. Who knows, I may feel like I can play the tournament of my life and hit all of the shots that the best players need to hit to win, maybe I won't. But I will go in confident and attempt to play the best to my abilities.

ESL: Who do you think is going to do well in the other group?

All four players are so close in skill that it is really hard to tell. But if I had to pick who would go on, I would have to say both Chance and DKT will be advancing. Not for any specific reason other than the fact that I think both of them have something to prove after the last few tournaments, and they will be wanting these wins a lot more than griffin and Vo0.

ESL: How do you think North American representatives will do at the Intel Extreme Masters World Championship at CeBIT?

Anyone who advances will do well. The top players over here are really close to each other, that is including rapha. And the fact remains that he has won the past few tournaments he has attended. It would be foolish to think that anyone who advances from this event to the finals at CeBIT wouldn't be a threat to win, or place very high.

ESL: Where have you been hiding since PainKiller?

As far as where I have been since PainKiller, I did try to play some Quake 4, but I just couldn't put in the time or effort to make an impact. So I've been going to school full time, working full time, dealing with a two and a half year old full time, doing some freelance work, and basically just keeping very busy. So you're probably wondering how I find time to play Quake Live? Let's just say I don't exactly sleep the recommended eight hours a night anymore, and that coffee is now the primary fluid occupying the blood stream.


More interviews to come!
This was the first interview in a series leading up to the Intel Extreme Masters American Championship in Edmonton, Canada on December 11-13. Visit this page for more interviews, video coverage, live streaming, up to date scores and more.

Soodi

, Monday, 07/12/09 04:46


Information:
info write comment not allowed