A playoffs extra: Get the players configs!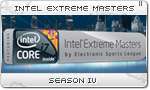 Eleven players give their setting to you
As a small side snack beside the live matches and the replays, you can get the players configs now. Our admins did a good job to catch up the latest settings the players really use and used here in Dubai. So get the configs now:
Quake Live Configs - Global Challenge Dubai 2009
All configs are up to date and supply you with the real feeling of the stars playing here in Dubai. Enjoy!
Soodi
, Monday, 19/10/09 06:25


Information:
info write comment not allowed