Archive ESL World Intel Extreme Masters
Grubby's signature and crazy Chinese fan culture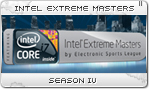 While Chengdu sleeps in preparation of the 3rd and final day of the Global Challenge, our report Julia "diejule" Christophers is giving us the rundown of today's happenings. What are Chinese fans like? How's the atmosphere at the venue? And what does Cassandra carry in her hand bag? Find out more in this blog.
China vs. Sweden
What happened on the second tournament day was a Swedish surprise dish with dessert. What we actually want to tell you by this is that on one hand we have an SK Gaming doing very well with a new lineup while on the other hand there is fnatic performing also super which means: two Swedish teams in the final.
Things always happen pretty quickly in eSports and that is why we have to say goodbye to a first or second place for WeMadeFox and Tyloo with one laughing (if we are fans of Sweden) and one crying eye (if we are fans of the Chinese teams and/or really admire their style).
Because the Chinese fans would stand behind wNv or Tyloo and make such a noise that one might think they were screaming at the top of their voices for the last important goal for their favorite soccer team and that they were maybe British. It was absolutely incredible and people were so flabbergasted by that, they did not even talk about it because they just did not know what to say.
The players' heart beats
Suddenly everyone moved as if they were part of the game: the photographers weaseled on tip-toes from team to team, taking pictures trying not to distract the players, the audience was not consisting of individuals anymore but of one person representing the big Counter-Strike fan China, a fan who does not let his team down, a fan that feels the players' hearts beat every second of every minute of every match.
Yes, they screamed in this loud and united way shortly before the pistol round, so shortly before a round even had started. This means that there was even more shouting and screaming, every time the Chinese team could win one round.
Books full of autographs
Some fans came over to us and told us that they were studying engineering in Chengdu. They all had neat books that were already full of autographs. Under a lot of smiling and shy bowing they presented to us the autographs of Grubby, Moon, Sky, Robban, cArn, Alex… and they asked us if they might get some time to ask Get_RiGhT for his signature.
They knew all German players, also Jan "Moon"Stolle, David "Chefkoch" Nagel or Johnny R. They mentioned the eSports Awards and asked us if it was not logical if Alex would become the Most Valuable Player next time because they thought that he is the best Chinese player and their favorite.
Cassandra's special treat for the fans
The fans at this event in general get a lot of autographs and take many pictures with the players, which does not happen so frequently in Europe. Cassandra even had autograph cards of Grubby in her handbag that were already signed, with a nice picture of her fiancé on the front.
Sadly and surprisingly, this time, Grubby did not win one single map. But that did not alter his fans' love for him. Sky, Fly100%, Moon and FoCus can still show us tomorrow who will be the best player in the Global Challenge Chengdu of Intel Extreme Masters Season IV.
So we hope they will have a very good night of sleep, a refreshing shower and maybe a nice Chinese breakfast with noodles and sesame rice balls filled with sweet beans and banana so that they are really strong tomorrow and show us what they are made of.
Good night, Chengdu! Good night, Intel Extreme Masters fans!
Julia "711308" Christophers


Information:
info write comment not allowed