First nine teams for Global Challenge Dubai announced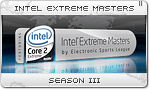 The first nine teams of Dubai is hereby announced. This time we are speaking Counter-Strike only, as World of WarCraft already had their solo game event in Leipzig earlier on. The clash in Dubai will take place from October 19th to 24th, and the reason for this extra long event (six days) is due to the local qualifications taking place right before. Read on.
Counter-Strike locals mixed with the stars
Top teams from all over the world are setting their destination to Dubai in right about a month from now to fight for 50,000USD and extra slots for the continent in the World Finals. On top of this extraordinary happening, local teams will get the chance to qualify as four of the 16 spots are dedicated to them. With those nine teams announced, just three more teams are will be lucky to gather in excluding the locals.



Made in Brazil



mousesports



mTw int.



haha.CS



oXmoze



AGAiN



fnaticRC



SK Gaming



DTS.chatrix.old
Still able to join the fun
There is still time to sign up for this and other events, so why don't you take your chance to sign up, and perhaps you'll be a part of the remaining three teams? And if you are part of a local Dubai team and has yet to sign up, you are more than welcome to. The more the merrier!
Key facts Dubai:
Date: 18th until 24th of October
City: Dubai, United Arab Emirates
Venue: Gitex Shopper
Prize Money: 50,000USD for CS 1.6
Global Finals Slots: 2 slots for the continent of the winners
Participants: 16 CS 1.6 Teams
Apply for : Fill in and e-mail dubai.cs.gc(at)esl-world.net
Key facts Montreal:
Date: 17th until 19th of October
City: Montreal, Canada
Venue: Sport Compact Performance Trade Fair
Prize Money: 50,000USD for CS 1.6 and 30,000USD for WoW
Global Final Slots: 2 Slots for the continent of the Winners
Participants: 16 CS 1.6 Teams and 16 WoW Teams
Apply for : Fill in and E-Mail montreal.cs.gc(at)esl-world.net
Apply for : Fill in and E-Mail montreal.wow.gc(at)esl-world.net
Key facts Los Angeles:
Date: 3rd until 5th of October
City: Los Angeles, California, United States of America
Venue: E for All
Prize Money: 50,000USD for CS 1.6 and 30,000USD for WoW
Global Finals Slots: 2 slots for the continent of the winners
Participants: 16 CS 1.6 Teams and 16 WoW Teams
Official E for All Website
Apply for : Fill in and e-mail LA.cs(at)esl-world.net
Apply for : Fill in and e-mail LA.wow(at)esl-world.net
Genie
, Thursday, 18/09/08 18:03


Information:
info write comment not allowed