Archive ESL World Intel Extreme Masters
Participants of the first Global Challenge in Leipzig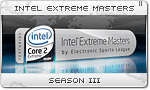 The third Intel Extreme Masters is about to start: the Kick-Off will be held at the world's biggest games trade fair: the Games Convention in Leipzig. From 21st until 24th of August, 12 WoW-Teams will compete for 30,000USD and 2 Global Finals slots for their continent. Today we proudly present the 12 best teams in the world, which will participate at the first Global Challenge in Germany. It will be an amazing and thrilling kick-off.
We are really proud to welcome 12 of the best teams in the world. Among other top teams, Pandemic, the Winner of the Intel Extreme Masters Global Challenge Dreamhack, mTw, the best team in the world according to online rating and x6tence, second at Blizzard WWI '08, will come to Germany. Furthermore the world famous player Hafu, first woman to win a major WoW tournament, will also participate with her team fnatic. This event will be a Thriller.
All teams will be playing in Leipzig on highest performing Intel Extreme Processors on Alienware Area-51® Systems from Dell's Gaming group. Get a closer look at the
official tournament PC
and the
official tournament Laptop
.
All participants
Team Alternate


Daniel 'Sanchez' Lamprecht
Luka 'Zoja' Maric
Marcel 'Hogaz' Honnef

x6tence


Néstor 'Souler' García
Víctor 'Falcon' Sánchez
Javier 'Siler' Dobón

aAa Agita


Nicolas 'Léà' Peyré
Erol 'Zephiris' Rugar
Erik 'Tr00d' Winai

FATE

Florian 'Alca' Österle
Andreas 'Syrez' Schimp
Kris 'Valec' Hoyer

SK Gaming

Simon 'Xom' Palmer
Valent 'Another' Sebatijan
Olivier 'Orly' Bellemans

fnatic

Rumay 'Hafu' Mang
Alex 'glick' Hloderwski
Isaac 'Azael' Cummings-Bentley

mousesports


Alex 'alec' Sheldrick
Philipp 'philDryzen' Dreisen
Jörn 'incarnated' Thieme

Nihilum Plasma


Luis 'Eldissy' Di Centa
Mike 'Redhot' Tyrrell
Patrick 'Inflame' Costales

mTw


Florian 'Donjuansohn' Weber
Luchin 'Cerberuss' Doblies
Janosch 'Thaloris' Doblies

Pandemic Blue


Nathan 'Kintt' Quinn
David 'Ohnoes' Atz
Brian 'Caal' McPharlin

Atrox


Sven 'Finrod' Henkel
Aaron 'Ginnyy' Kroeck
Gordon 'Hurray' Rempe

Wir nehmen Kerze


Elias 'Kaede' Zeitfogel
Oliver 'Zual' Mitzlaff
Carsten 'Mindola' Schollmaier
Intel Extreme Masters III
In the third season the world's best players will meet in the Intel® Extreme Masters to determine the best one of the cream of the crop. In Counter-Strike 1.6 (5on5) and World of Warcraft (3on3) the best teams will play for a total prize money of 750,000 USD. In this season we will hold nine major events in North America, Asia and Europe before the season reaches it's climax at the World Finals at CeBIT in March 2009.
pennY
, Tuesday, 19/08/08 14:15


Information:
info write comment not allowed