Archive ESL World Intel Extreme Masters
Extreme Masters in Moscow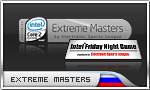 Today, the Extreme Masters by ESL will come to Moscow. It's the last offline event before we finish the season with the Finals at CeBIT.
First photos online!

Photo Gallery
No Live Broadcast:
Due to technical difficulties, this Intel Friday Night Game will unfortunately not be broadcast live via GIGA or GIGA 2. The show will be televised in the coming week.
After the enormous success of the ESL Russia kick-off event in early December, we couldn't wait to get back to Moscow. Thus, we hope for your support to make this evening something very special. If you don't have the possibility to come to Moscow you can also watch GIGA 2 so you won't miss anything. Starting at 20 o'clock (CET) you can watch both the show and the matches with English commentary.

TitaN vs. Miou


Begrip Gaming vs. Four Kings


See more photos from Kick-Off Event in Moscow

Get Autographs from the Top Players:
The Intel Friday Night Game will feature the top matches of the Extreme Masters.
Europe's best teams and gamers
will fight for 160,000 Euro (about 205,000 US-Dollar). Get a hold of them in our special autographs and photo hour. Have a little chat with the stars or ask them for a photo with you and your mates.
Further Information:
12922 Moscow
Prospekt Mira, House 119 (All Russian Exhibition Centre)
"Gao VVC"

Entry: 18:00 o'clock (Moscow time), Friday, Februrary 19th
Start: 19:00 o'clock (Moscow time)
INTEL FRIDAY NIGHT GAME live on GIGA and GIGA2
All matches from the Intel Friday Night Game Moscow will be viewable in high quality on
GIGA 2
. With a 1 Mbit stream you can sit back and relax and watch a great show. You can also watch the GIGA broadcast via Astra digital satellite, digital cable or webstream. The television broadcast starts at 8 pm CET.
IPTV Internet Stream:
Media-Player-Stream (700kbit)


Astra digital
Astrag Digital 19.2° Ost
Transponder 103
Freq: 12.460,5 MHz
Pol: H
Symb: 27,5 MSymb/s
FEC: 3/4
Soodi
, Friday, 09/02/07 12:41

No comments yet.

Information:
info write comment not allowed