Archive ESL World Intel Extreme Masters
Intel Friday Night Game in Paris - Let's Go!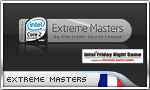 In a few hours the big show starts in Paris: It's Intel Friday Night Game time! In WC3 two of the best European players are gaming against each other. Grubby from the Netherlands vs. local matador ToD. The Counter-Strike match is between German powerhouse mouz and the French team goodgame. You can get the newest information and pictures in this news.

The newest photos from Paris
The Matches:
Do you want to win a motherboard and a processor valued at over 1,000 Euro? Do you want to take part in a live TV production? And do you want to see Europe's best teams and players live with about 300 other eSport fans? Then you are right at the Intel Friday Night Game in Paris held on 19th January at the Espace Clacquesin. Check this news for all the information.
All visitors have the unique chance to win one of five
975 XPX Boards + Quad Core Extreme processors
valued at over 5,000 Euro. Prizes will be given out at the big raffle during the show. It's easy to win such a prize, so don't miss this chance!
Furthermore all visitors are taking part in a real TV production. Follow the games with a live commentary and
show program by experienced French TV presenters
and watch the matches on huge monitors.
Last but not least we want to thank
Milkinternethall
for their support. You can see some Extreme Masters posters in the internetcafes from Milk in Paris. Milk has six internetcafes in Paris. The cafes are offering best conditions for all users. Furthermore the cafes are equipped with 80 - 200 computers.
For more information about the Intel Friday Night Game in Paris check these news:

The Matches

Top Entertainment
The Lineups of both teams:

mousesports
:

goodgame:

See more photos from the Intel Friday Night Game in Hamburg here and from Intel Friday Night Game in Stockhom here.

Get Autographs from the Top Players:
The Intel Friday Night Game will feature the top matches of the Extreme Masters.
Europe's best teams and gamers
will fight for 160,000 Euro (about 205,000 US-Dollar). Get a hold of them in our special autographs and photo hour. Have a little chat with the stars or ask them for a photo with you and your mates. Intel Friday Night Games are held in Paris, Moscow, Stockholm and Hamburg.

Chill out and have fun:
At every Intel Friday Night Game, there will be a Chill 'n' Play area where you can sit down on one of the Fatboys and enjoy the snugness. You can also visit our partner booths. You have the chance to play the newest games and demos on high-end PCs with Intel Core 2 Duo processors.
Further Information:
Date: 19th January
Address: Espace Clacquesin
Avenue du Maréchal Leclerc 18
92242 Malakoff Cedex (Paris)

Entry: 19:00 o'clock, Friday, January 19th
Start: 20:00 o'clock
Location plan: Location plan from official Website
Hotels: Hotels
INTEL FRIDAY NIGHT GAME live on GIGA and GIGA2
All matches from the Intel Friday Night Game Paris will be viewable in high quality on
GIGA 2
. With a 1 Mbit stream you can sit back and relax and watch a great show. Furthermore
netgeneration
will broadcast the event via shoutcast. You can also watch the GIGA broadcast via Astra digital satellite, digital cable or webstream.
IPTV Internet Stream:
Media-Player-Stream (700kbit)


Astra digital
Astrag Digital 19.2° Ost
Transponder 103
Freq: 12.460,5 MHz
Pol: H
Symb: 27,5 MSymb/s
FEC: 3/4
339429
, Friday, 19/01/07 14:27

No comments yet.

Information:
info write comment not allowed