Archive ESL World Intel Extreme Masters
The Final Day - The new champions will be crowned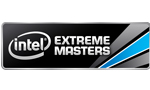 The final day of the Intel Extreme Masters World Championship has arrived. Today the new champions will be crowned in League of Legends and StarCraft II: Heart of the Swarm. In each game a new champion will be determined after the reigning ones got eliminated from the tournament.
League of Legends
In League of Legends the three remaining teams are all from Korea. CJ Entus Frost already secured a place in the final and is now waiting for the opponent. It will be decided between their sister team CJ Entus Blaze and SK Telecom T1.
You can also vote for the League of Legends MVP now. The winner will receive a custom painted unique BenQ monitor. You decide on
Facebook
.

Semi #2 - 09/03/13 03:30 EST -

SK Telecom T1 vs. CJ Entus Blaze


Final - 09/03/13 06:45 EST -

CJ Entus Frostvs. tbd


Playoff Bracket
StarCraft II: Heart of the Swarm
Only one foreigner remains in the tournament, Ret from the Netherlands. Can he continue his successful run as the last foreigner?

Quarter #3 - 09/03/13 03:30 EST -


YongHwa vs. ret



Quarter #4 - 09/03/13 05:00 EST -


First vs. violet



Semi #1 - 09/03/13 06:30 EST -


MVP vs. YoDa



Semi #2 - 09/03/13 08:00 EST

Final - 09/03/13 09:30 EST

Playoff Bracket

All StarCraft II VoDs -

All League of Legends VoDs

No comments yet.

Information:
info write comment not allowed