Archive ESL World Intel Extreme Masters
CS1.6 gets de_mirage and de_forge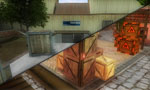 The new season of Intel Extreme Masters will feature two new maps. We've decided to add de_forge and de_mirage to the Counter-Strike 1.6 map pool. It's the first addition to Counter-Strike, since we've replaced de_cbble for de_tuscan back in season 3. This will revitalize Counter-Strike 1.6 and its greyed, rusted five maps.
This is a collective decision of ESWC, eStars Seoul, Dreamhack and ESL. All of these organsations will use de_mirage and de_forge in their upcoming tournaments, to establish them as good and as fast as possible in the international Counter-Strike 1.6 scene. Furthermore several professional teams from around the world were involved, to assure that the new maps meet the requirements of competitive play.
New Counter-Strike 1.6 Mappool
de_mirage (Download)

de_forge (Download)

de_tuscan

de_train

de_dust2

de_inferno

de_nuke
"For years we have been seeing the same Counter-Strike 1.6 maps over and over again. In the past it was impossible to add a single map because teams would not train them if only one event would use it during the tournament. Now with this initiative we hope that teams are able to practice and play some new maps. I personally hope that other organizations out there are willing to follow our initiative."
Statement Camille Versteeg, Head of Competitions ESWC

"Counter-Strike 1.6 is still the most popular game at DreamHack festivals, qualifiers and events. Last year we started to use de_mirage to give the DreamHack tournament some extra flavour - now we're very proud to team up with ESWC, ESL and eStars Seoul to announce the official map pool for the upcoming DreamHack Winter 2011. This kind of co-operation is important for the future growth of eSports."
Tomas Hermansson, Head of Esports DreamHack

"We are really happy that we don't do this step alone but in cooperation with ESWC, DreamHack and eStars Seoul. With the help of several professional teams we all together agreed on this new mappool for our upcoming tournaments and I hope that there will be some more cooperations in the future. We are all competitors but we still need to work together to help our beloved eSports."
Alexander Nehr, Tournament Director CS1.6 ESL


We hope you will enjoy both new maps in our upcoming CS1.6 tournaments.
otacon
, Monday, 11/07/11 11:06


Information:
info write comment not allowed