Intel Extreme Masters 2011-12 includes LoL, SC2, CS 1.6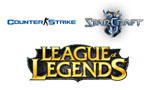 Counter-Strike 1.6, StarCraft II, League of Legends
The 2011-12 season of the Intel Extreme Masters will feature Counter-Strike 1.6, StarCraft II and League of Legends as the main titles and $635,000 seasonal prize money. So far Counter-Strike was featured in all five seasons of the league, StarCraft II comes back for its second season. Both games have been extremely successful at our events so far.
World Championship 2010-11 Gallery
League of Legends makes a debut as a main title of Intel Extreme Masters after it was met with an overwhelmingly positive response at the Hanover Invitational event in March 2011. The extremely popular MOBA game has nourished one of the fastest growing communities in esports and is one of the most popular titles in the ESL platform.
Those three game titles will travel together with Intel Extreme Masters to five different countries so fans around the globe can find out at the World Championship who the world's best gamers are.
You can relive the finals from the last World Championship on YouTube:

LoL Hanover Invitational /

CS1.6 Grand Final /

SCII Grand Final
More information the Intel Extreme Masters 2011-12 season will be published soon. Stay tuned for more updates to come!
otacon
, Monday, 27/06/11 09:03


Information:
info write comment not allowed