American Championship Counter-Strike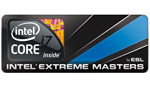 Who will go to New York?
With StarCraft II group stage almost over, it is now time for some Counter-Strike action. By the end of the group stage we will know the 6 teams that will be representing their organizations at the Intel Extreme Masters American Championship Finals in New York, NY during the comic con convention (October 8th - October 10th). Also 2 South American teams will join the 6 North American teams who will be reviled later this week.
Groups
Group A
Loaded
mLgaming
wonderbunnys
excello.zowie

Group B
EG
Area 51
scared2plant
SK Gaming.Ladies

Group C
PLP
eXultance
Finesse
Backfire

Group D
ex-coL
Underestimatedd
Ultimax-Gaming
quality Teamplay

Schedule

Round 1
07/09/10 20:00 EDT

Round 2
07/09/10 21:30 EDT

Round 3
08/09/10 19:30 EDT

Relegation
08/09/10 21:00 EDT
More Details
Winner of each group will receive an automatic spot in the Intel Extreme Masters American Championship Finals, where the 2nd placed teams will play a relegation matches to determine the other 2 teams. Just as a reminder there is a total prize pool for all 3 games of $59,600 for the current Season of Intel Extreme Masters America Championships. Also
HLTV.org
will provide HLTV Coverage for all the matches of the Group Stage.
crtmN
, Monday, 06/09/10 13:33


Information:
info write comment not allowed