3rd Intel Extreme Masters Main Title: StarCraft II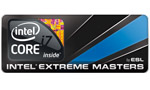 Hell, It's About Time. StarCraft II becomes part of the Intel Extreme Masters, as the third main title alongside Counter-Strike and Quake Live. The highly anticipated PC game will hit the stores tomorrow and will undoubtedly be a milestone in eSports history. Therefore we have chosen StarCraft II to be a new game game in the fifth season.
Real time strategy stages comeback at the Intel Extreme Masters after Warcraft 3 made its appearance in seasons 1 and 2. StarCraft II will have its Intel Extreme Masters début at the
Global Challenge gamescom
in three weeks. StarCraft II will be a full main title of the global league of eSports champions.
More information on how to qualify for the Continental Championships will be announced soon!
otacon
, Monday, 26/07/10 13:47

No comments yet.

Information:
info write comment not allowed