Fourteen QR1 matches tonight, Tuesday 22nd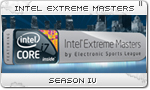 Tonight, Tuesday 22nd, fourteen matches of the Qualification Round 1 in the European Counter-Strike season carries through. Now is the time to support your national representatives as 28 teams from all over Europe will battle it out tonight, starting the first match 20:30 CET.
Everything at stake
If you are familiar with the Qualification Rounds system, you know that everything is at stake for these 28 teams tonight. Winning means heading on to Qualification Round 2, which later on leads to the European Championship. Losing means the end for this season.
So far, three matches have already been played, where two Norwegian teams overcome powerhouses from Finland and Bulgaria, followed by Bulgarian
Home Dominant
.
Tonights Matches
For more information on the Qualification Rounds, go
here
.
Genie
, Tuesday, 22/09/09 07:24

No comments yet.

Information:
info write comment not allowed