Sweetpatch.TV FIFA 14 (PS4) Sunday Series Cup 1
FIFA 14 | PS4 Sunday Series Cup (April)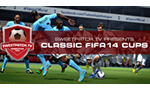 Welcome to the Sunday Series Cup for the PS4. See the details below for the timings and rules. At the bottom is a comment wall to post your enquiries about the cup.
We are running Series of Cups every week, to determine the monthly champion. This is done by accumulating points from where you finish in each weekly cup.
The player with the most points after the 4 cups in that month will be crowned the monthly series champion.
Also, to make things more interesting we will give each cup a theme, where we use different teams across the world and vary the ratings to spice things up and test your FIFA ability. So always look out what the theme or team we will be using for each tourney.
Weekly Cup Point System:
1st = 25pts
2nd = 18pts
3rd = 15pts
4th = 10pts
5th - 8th = 5pts
9th - 16 = 2pts
ALL PLAYERS MUST CHECK-IN HERE AND BY POSTING ON THE COMMENT WALL AT THE BOTTOM OF THIS PAGE AFTER 19:30
Tourney Format
Any Club FIFA 14 Team

STADIUM = Any

INJURIES = Off

OFFSIDES = On

BOOKINGS = On

HANDBALL = Off

HALF LENGTH = 6 Minutes

BO1 (1 game each round)
If tied, play ET/PENS or Both agree on Golden Goal but confirm with Admin

16 player tourney = 4 rounds

All times in UK timezone (BST)

Registration ends at 06/04/14 @ 7:00pm

All players to check in no later than 7:50pm

Round start times:
1st round - 8:00pm
Quarters - 8:45pm
Semi Final - 9:15pm
Final - 9:45pm
Use the
Bracket tab
to see who you are playing and also to report your scores by clicking on the
vs
on the bracket. That will open up a page where you can leave comments and correspond with your opponent or admin. Also there is a link to report your match score.
Please bare in mind each round has a deadline to play the game, so if you're late playing the result could go against you as a default.
Enquiries to be made on the comment wall below.


Information:
info write comment not allowed