Archive ESL Europe United Kingdom Quake Live
Quake Live Super Sunday Cup #2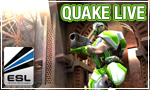 Following last weekend's successful cup we are back for another Super Sunday Cup for Quake Lovers to come and compete against other UK players. The first round will kick off at 7.00pm this Sunday.
Prizes
We giving away Premium and ESL TV for the winners!
1st.
3 month

Premium + 1 month ESL TV
2nd.
2 month

Premium + 2 weeks ESL TV
3rd.
1 month

Premium + 1 week ESL TV
4th.
1 month

Premium
Find out more about
ESL Premium and ESL TV
.
Cup details
- 32 players
- Double elimination
- One map, fixed for each round
- Campgrounds Redux (qzdm6), Lost World (qzdm13), Vertical Vengeance (tourney4), Almost Lost (tourney6), Furious Heights (tourney7), Blood Run (ztntourney1)
- Starts 7pm Sunday
- Cup is finished in one night!
- Be in #esl.uk on Quakenet IRC!
How to sign up

You need to
register on the ESL
.
Important!
If you have ever registered before and you have forgotten your details, do not make a new account,
write a support ticket
.

You must
register your Quake Live gameaccount
.
Sign Up Now!


Information:
info write comment not allowed