Archive ESL Europe United Kingdom Quake Live
ESL UK Quake Live League - June 2009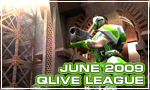 Starting this June we are hosting a monthly League for UK players to battle it out in a quick 1 month tournament. Everyone gets to play at least 4 matches and the best of the best, and the best of the worst, win prizes!
The League
The aim of the League is to give UK players a fast and fun tournament to play in every month and have a good chance of going away with something.
Prizes
1st.
3 months

Premium + 1 month ESL TV
2nd.
2 months

Premium + 2 weeks ESL TV
3rd.
1 month

Premium + 1 week ESL TV
4th.
1 month

Premium
Winner of the Losers Playoff
. 1 month

Premium
Find out more about
ESL Premium and ESL TV
.
Structure
- Best of 3
- First map is picked by the site, loser picks next
- 16 players
- 4 groups of 4 players
- 3 matches in the Groupstage
- Top 2 players from each group go to Playoffs
- Bottom 2 players from each group go to Losers Playoffs
- Playoffs are Single Elimination (knock-out)
Schedule
Round 1.
Tuesday 2nd June 8pm UK
Round 2.
Sunday 7th June 8pm UK
Round 3.
Tuesday 9th June 8pm UK
Quarter Finals.
Tuesday 16th June 8pm UK
Semi Finals.
Sunday 21st June 8pm UK
Final.
Tuesday 23rd June 8pm UK
Guide: How to sign up

You need to
register on the ESL
.
Important!
If you have ever registered before and you have forgotten your details, do not make a new account,
write a support ticket
.

You must
register your Quake Live gameaccount
.
Sign Up Now!
Update:
Sign ups are going well and we now have 16 players signed up. Any extra players will be on a waiting list and will replace any players that drop out.

No comments yet.

Information:
info write comment not allowed