Archive ESL Europe United Kingdom Quake Live
Quake Live Nightcup tonight!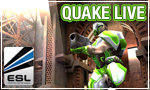 We are hosting another Quake Live 1on1 Nightcup this Tuesday for UK & Irish players. Up to sixteen players, single elimination and best of three. Find out more inside!
There's a ladder too!
Remember, we also have a regular

1on1 Ladder
for you to play in and get practice.
Prizes
1st.
1 month

Premium + 2 weeks ESL TV
2nd.
1 months

Premium + 1 weeks ESL TV
Find out more about
ESL Premium and ESL TV
.
If less than 12 players take part, prizes will be reduced.
Cup details
- 16 players
- Single elimination
- Best of three, first map is fixed, loser picks next
- qzdm6 (Campgrounds), qzdm13 (Lost World), qztourney7 (Furious Heights), qztourney9 (House of Decay), ztntourney1 (Blood Run)
- Starts 8pm
- Cup is finished in one night!
- Be in #esl.uk on Quakenet IRC!
Guide: How to sign up

You need to
register on the ESL
.
Important!
If you have ever registered before and you have forgotten your details, do not make a new account,
write a support ticket
.

You need to
register your Quake Live gameaccount
.
Sign up
You can sign up now but you must also confirm after 3pm on Tuesday using the sign up link again that you want to play!
Help!
If you have any problems or questions,
please write a support ticket!
Your

Admin team

No comments yet.

Information:
info write comment not allowed