Archive ESL Europe United Kingdom Dota 2
Go4Dota 2 UK #11: Win £100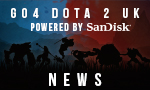 Now is your chance to win up to 100 GBP in the SanDisk Go4, also have a chance to be entered into the grand final! This is the third cup of the Month, make sure you earn those points for the grand final for a chance of playing for 500 GBP at the end of the month!
About the SanDisk Go4 Series
The SanDisk Go4 Series has one cup each week where you earn points to qualify for the big Grand Finale. Every Sunday all teams that participate will receive points but the winner will receive an additional
100 GBP
. The Grand Final will take place at the end of each season and this will consist of four teams who gathered the most points during the weekly cups. There the teams will compete for a total prize pot of
500 GBP
.
If you have any problems during your matches, please open a
Protest
ticket instead of a Support ticket, so all match contestants can see and react to it.
Check-In System
This cup uses the ESL Check-In system, below is a brief introduction of how this works.
Step 1 - Registration (Green)
Here you can sign-up for the cup, but you will have to confirm your spot later.


Step 2 - Confirmation (Yellow)
30 minutes before the cup starts you will have to confirm your spot. After doing so you are secured a spot in the tournament.
Step 3 - Entering (Red)
Still free spots left? 20 minutes before the cup starts sign up's open again and you can join the cup even if you didn't sign up for it on beforehand.
Good luck to all participants,
Your

Admin Team.

No comments yet.

Information:
info write comment not allowed