Archive ESL Europe United Kingdom Dota 2
ESL Partners With epic.LAN with £3,000 Dota 2 Competition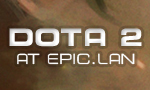 ESL UK announce partnership with epic.LAN for their next instalment of their popular offline event series, epic.TWELVE. The joint venture will see the inclusion of a £3,000 Dota 2 competition in February 2014.
Guaranteed £3,000 Dota 2 Competition at epic.LAN
ESL UK are excited to announce a new partnership with epic.LAN, which will feature a Dota 2 competition with a guaranteed prize pot of £3,000, taking place in February 2014.
Epic.LAN re-established their roots within the UK gaming scene back in 2009, and have been championing gaming ever since. Starting out from humble beginnings, the event has quickly soared in popularity, seeing hundreds of gamers attracted by affordable ticket pricing, efficient tournament organization and a strong community focus.
The partnership is hoped to help expand the competitive Dota 2 community within the United Kingdom, which has up until this point faced a series of bleak opportunities within the localized competitive scene.
The £3,000 Dota 2 competition will be open to teams who have purchased an
epic.LAN
Bring Your Own Computer (BYOC) ticket, granting participants access to not only the ESL Dota 2 competition, but full access to the epic.LAN event itself.
Sign-ups are due to open on www.epiclan.co.uk on Sunday 24th November, priced at £60.00 per ticket. Limited turn up and play (TuP) upgrades are due to be announced over the course of the up-coming week.
Key Tournament Information
Ticket Price: £60.00 per participant
Date: Friday 14th February - Monday 17th February
Capacity: 12 Teams
Where: Kettering Conference Center
Type: BYOC with limited TuP
Buy your ticket now!
With just twelve slots available at epic.LAN in February the event is expected to reach capacity within a short period of time. Click the link below to secure your place at epic.LAN this February.
Have any questions? Feel free to create a support ticket
For any question, problems, doubt, perplexity, feedback and advice, please contact us via support ticket and an admin will be happy to help you.
Thank you,
Your

Admin Team
ptER
, Sunday, 24/11/13 11:59


Information:
info write comment not allowed