Interview with a proactive individual in the UK scene - Tundra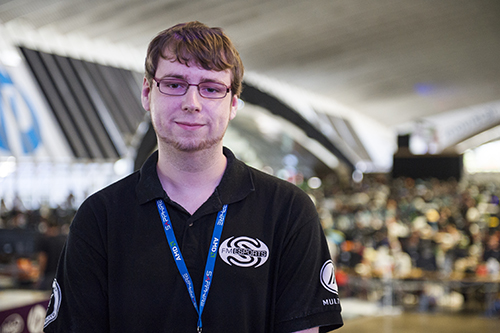 In recent months we've heard the UK's passion at Wembley, we've seen their avidity at MCM Comicon London and there is more on its way. So let me introduce you to someone you will probably be seeing and hearing of a lot more. Jamie 'Tundra' Duthie, top laner and eager to help the UK scene grow. Here are a few questions I asked Tundra about himself and the UK League of Legends scene.
Interview
How long have you been associated with the UK league of legends Scene?
I made my first appearance in March 2013 at Insomnia 48 with the original Animate Esports roster. I had never been to a LAN event before so this was a completely brand new experience to me. It was still one of the best events I have ever been to because of how incredibly close it was and some of the names that were playing. The final standings were 1. Animate (Myself / Akilord / Mayh3m / Samwise / Akamezz), 2. EH EHH (NitriX, Impaler, CookmySock, Shacolol, Yerrow), 3. Beasts (Ereptor / Shacker / Imbalyte / Chewedup / B0lt). It's really sad to only have 3 people out of the 15 still playing the UK scene but it's also incredible to have 2 of the 15 in LCS.
What has been one of your biggest disappointments as a gamer?
Leaving Animate Esports. I received an offer to play with Acer/Bonjwas which was (Myself / Amazing / Pose / Tsuchi / Mithy), they were the rank 1 team on 5v5 challenger and thus had already qualified for a spot in the online rounds of the 2013 LCS Summer promotion tournament. After some poor play we lost to Wizards Esports in the final round before the offline event in Cologne. Upon this we instantly disbanded and I had been replaced on Animate by Vizicsacsi. Given how good he was it was impossible to regain my spot on the team and I was left with pretty much nothing.
What has been one of your greatest accomplishment as a gamer?
The change in my personality and how many events I've got to since entering the scene. To look back to how far I've come since i48 is just quite emotional for me. I never thought I would be travelling all around the UK attending 4 Insomnia events, 2 MCM's, Gfinity, LCS Wembley, epicLAN and even flying to Tenerife for TLP, It's very surreal.
What has been one of the best teams you have been on and why?
In terms of skill, Bonjwacer: Me / Amazing / Pose / Tsuchi / Mithy. In terms of everything else, my current one, Me/Nutri/DxAlchemist/Samwise/Athero, to be in a team with such wonderful people, to play alongside my best friend, while still being a decent team, I really couldn't ask for more.
What has been one of the worst teams you have been on and why?
Worst, Team Infused, I only ended up on the roster for i49 because of a last minute favour to one of their management who I did owe it to, plus the fact I wanted to go to i49 to see all my friends etc but the team was just eugh. To go from playing with like Mithy / Amazing etc to Platinums is kind of a big jump..
If you didn't get into esports, where would you be?
Before getting really into gaming with StarCraft 2 / LoL I used to actually be quite athletic and interested in Science/Maths so I would have hoped to be at a decent university studying maths and playing on university sports teams.
If you could be the head coach of a team for a year, what team would you choose?
Alliance, They are one of the hardest working teams in the LCS and they fully deserve to be where they are. It was great to meet them all and hang out with Tabzz at LCS Wembley. Usually in a team dynamic you have your shot callers, strategists etc with Alliance they are all just so incredible smart while also pitching into calls and having the mechanics to back it up.
You've been answering a lot of questons on your ASK.Fm page and created a tournament to fill in the gaps where competitive play in the UK is low, What do you see yourself as in the scene at the moment, a player or a Guru?
Why not both? I just want to try and help the UK scene in any way I can. I know what it's like to just be a cog in a huge machine and feel worthless but although I'm not exactly 'Well known' I feel like I'm in a position where I can actually make a difference. And I want to make that difference by providing UK teams/players with opportunities to promote themselves but by also trying to further myself as a player so I can raise the standard of competition in the UK with myself and my team.
What do you think needs to change other than increasing tournaments in the UK for the scene to grow, not only in league but to all esports?
Exposure, LCS Wembley PROVED that with the right exposure the sheer amount of people that care about LoL and esports is there. Those 12k people that went to LCS Wembley, why do they not care about Insomnia events? MCM? epic? etc why do we struggle to get 1k viewers when 12x that showed up in person. I get there is obviously a HUGE difference to LCS and UK scene but that doesn't explain how all of these people just seem to disappear. If we want the UK scene to grow we need to band together and start helping eachother out rather than it kind of being every man for himself.
What is growth to you, more people being part of esports, higher prize pools?
Infrastructure, Right now we have no 'Circuit'. We just have a few tournaments dotted around the year, if there was an actual structure in place that provided teams with incentives, goals, exposure etc with a nice cash prize involved as well I really think the UK scene could substantially grow.
Is there anything you would like to leave us with?
Thank you so much to ESL UK for giving me this interview but also for providing tournaments for Bronze/Silver players. A lot of people misunderstand how important this is but the scene needs to be improved from the ground up starting with the most popular demographic (Bronze/Silver). I'd also like to thank FM eSports and our sponsors Sapphire, AMD and Razer and to our partners Multiplay and Twitch. Looking forward to seeing everyone at Insomnia 52.
Thanks Tundra, keep up the awesome work!
Talha
, Friday, 08/08/14 05:54

No comments yet.

Information:
info write comment not allowed