Dota 2 Challenge: Qualifiers Announced
ESL UK are happy to announce the exciting addition of an online qualifier to the Dota 2 Challenge. Kicking off on Saturday 14th December, the qualifier will see up to 32 teams clash to fight it out for free entry and access to the exclusive ESL UK turn up and play area at epic.TWELVE.
Introduction & Details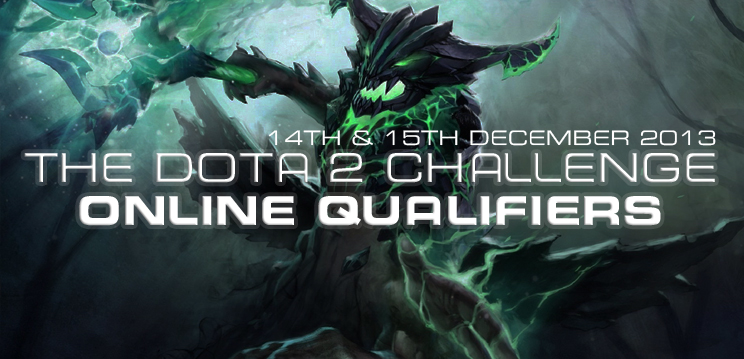 We here at ESL UK are excited to announce the addition of the ESL UK Dota 2 Challenge Online Qualifiers. The online competition will see a thirty two team capacity, acting on a first come first serve basis. The competition is due to kick off on Saturday 14th December, at 17:00GMT.
We've got some awesome prizes up for grabs, seeing first place claim free entry to the event, alongside exclusive access to the ESL UK Turn up and Play (TuP) arena, reserved solely for our qualifier victors. But it isn't just first place that will walk away with some goodies though, oh no, we've got two more team TuP upgrades up for grabs for the runners up. I know, we're pretty awesome.
Because we're all about the United Kingdom, the qualifiers are unfortunately reserved solely for teams that have a majority line-up from the UK and Ireland, but rest assured, the offline competition in February is open to all!
Sign Up Now
Sign-up's are now live and are scheduled to close at 12:00 on Friday 13th December. Late entries may be accepted, but are likely be rejected due to scheduling demands.
So what are you waiting for? Sign up your team today, and don't forget to check in!
Tournament Format
The qualifiers will run over the course of two days, starting with three group stage rounds. To finish off the evening, the first two play-off rounds are scheduled to take place, seeing the top eight teams advance onwards.
The finals will the take place on Sunday 15th December, commencing at 11:00. The playoffs will run in a double elimination format.
Prize Distribution & Handling
First Place: 5x epic.LAN tickets and Turn up and Play
Second Place: Turn up and Play
Third Place: Turn up and Play
The prizes will be allocated to the team captain, and are to be distributed internally. If you win free entry into the Dota 2 Challenge in February, and have already purchased your tickets, you will be refunded, provided you contact the ESL admin team within 14 days of receiving your prize.
Looking to attend the Dota 2 Challenge? Secure your spot now!
Have any questions? Feel free to create a support ticket
For any question, problems, doubt, perplexity, feedback and advice, please contact us via support ticket and an admin will be happy to help you.
Thank you,
Your

Admin Team
ptER
, Wednesday, 27/11/13 11:59

No comments yet.

Information:
info write comment not allowed