Archive ESL Europe United Kingdom Counter-Strike: Source
Sign-up for the ESL UK CS:S Pro Series Qualifiers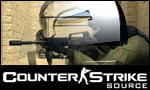 Today we proudly present the sign-up for the qualifiers for the ESL UK Pro Series. Europe's most prestigious national eSports competition is finally coming to the UK. The games selected for the inaugural season are CS:Source and Call of Duty 4. The total prize purse is £30,000 which is distributed equally between the 2 games.
How can I apply for the ESL UK CS:S Pro Series?
3 one-day qualifiers will be held on Sunday the 14th, Wednesday the 17th and Sunday the 21st of September 2008 to determine the 12 participants of the inaugural ESL UK Pro Series. All you need to do is to use the sign-up form, which you can find
here
. The tournament tree will be created and released as soon as the quota of 32 teams is reached.
Signup Requirements:
All players need their real name added, and visible
Players have to be over the age of 15
Players need a picture of themselves on their profile
Players need to have place of residency entered
Teams need a team logo relevant to their team's name
Teams and players need contact info in form of an IRC channel or have an MSN entered
STEAMID CS:S needs to be entered for every player (Guide)
60% (3 players) of the starting lineup need to be a UK resident.

> > Sign up now! < <
Keyfacts:
Date: Begins end of September
Prize Money: £15,000 for
Participants: 12 CS: Source teams
Official UK EPS Website
Qualifier Layout: 3 single elimination one-day cups, Best-of-3 maps
IRC Channel: #esl.uk on QuakeNet
Apply for the : Qualifier #1 (Sunday the 14th)


Information:
info write comment not allowed