Archive ESL Europe Poland
Kolejna środa z rozgrywkami MKX Pro League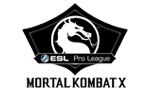 Jesteśmy na półmetku przedostatnich kwalifikacji do MKX Pro League. W walce o kolejne 1 000 dolarów w gotówce pozostało już tylko 16 zawodników. W środę od 20:00 pojedynkować się oni będą o zwycięstwo w siódmych eliminacjach i poprawienie swoich zdobyczy punktowych. Sympatyków gry Mortal Kombat X zachęcamy do oglądania relacji ze środowych zmagań. Wszystkie walki, licząc od fazy RO16 do finału, transmitowane będą na Twitchu, na kanale NetherRealm. Tymczasem zapraszamy do zapoznania się z parami meczowymi, które przedstawione zostały dalej.
Druga część gier w siódmym tygodniu eliminacji
Szesnastu uczestników zostało na placu boju siódmych eliminacji do MKX Pro League. W środowy wieczór dowiemy się, kto z nich wzbogaci się o kolejny 1 000 dolarów. Są to już przedostatnie eliminacje, dlatego każde punkty są na wagę złota. Dzięki nim nasi gracze będą mogli awansować do finału serii, do walki o nagrody pieniężne o łącznej sumie 100 000 dolarów, która odbędzie się w Burbank, w Kalifornii. Zachęcamy do zapoznania się z
drabinką turniejową
i parami meczowymi dalszej części siódmych kwalifikacji.
Internetowa transmisja z drugiego dnia rozgrywek
Wszystkie mecze rozgrywane drugiego dnia pokazane zostaną na Twitchu, na kanale NetherRealm. Opatrzone one zostaną profesjonalnym komentarzem naszych specjalistów, którymi są
PNDMustard
i
PNDKetchup
. Zachęcamy Was wszystkich do oglądania transmisji i kibicowania najlepszym, europejskim zawodnikom Mortal Kombat X. Przed nami bardzo emocjonujące pojedynki, w których na pewno nie zabraknie ciekawych akcji i wymiany ciosów. Wszystko to rozpocznie się w najbliższą środę o godzinie 20:00.
Więcej informacji na temat turniejów ESL Pro League możecie znaleźć na oficjalnej podstronie Mortal Kombat X.
Bądź na bieżąco z informacjami na temat organizowanych przez nas rozgrywek Mortal Kombat X śledząc
@ESLMortalKombat
i
@NetherRealm
oraz
nasz fanpage Mortal Kombat na Facebooku
.

No comments yet.

Information:
info write comment not allowed