Archive ESL Europe Poland Hearthstone: Heroes of Warcraft IEM Poland
Hearthstone: Heroes of Warcraft oficjalnym tytułem Intel Extreme Masters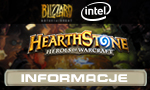 Zapraszamy do wzięcia udziału w rozgrywkach Hearthstone: Heroes of Warcraft, które zadebiutują na Intel Extreme Masters! Z pewnością jest to bardzo dobra wiadomość dla wszystkich entuzjastów produkcji Blizzarda, którzy będą mogli sprawdzić się w nadchodzących turniejach kwalifikacyjnych. Najlepsi zawodnicy pojawią się w katowickim Spodku podczas finałów ósmego sezonu IEM, gdzie powalczą o 4,000$ i mistrzowski tytuł. Więcej informacji znajdziecie w dalszej części wiadomości.
Hearthstone: Heroes of Warcraft to logiczna gra karciana, która działa w modelu free to play. Gracze mierzą się online z innymi uczestnikami rozgrywki. Fabuła oparta jest na świecie Azeroth, który znamy z Warcrafta i World of Warcraft. W grze dostępnych jest dziewięć klas postaci. Więcej informacji na temat tej produkcji znajdziecie odwiedzając
oficjalną stronę
oraz z programów emitowanych w
ESL.TV Polska - Hearthstone Arena: The Beginning
.
W Europie odbędą się cztery tury kwalifikacyjne. Najlepsi wezmą udział w finałach, z których do ostatecznej batalii w katowickim Spodku, awansuje jeden gracz.
Hearthstone: Heroes of Warcraft, europejskie kwalifikacje:
Droga do Katowic rozpoczyna się już od kwalifikacji. Odbędą się cztery turnieje eliminacyjne, w których możecie zapewnić sobie awans do finału europejskiego online.
W meczach kwalifikacyjnych grać będziecie w systemie Best of Three, Single Elimination. TOP2 każdego turnieju eliminacyjnego zapewni sobie udział w finale kwalifikacji, który odbędzie się już
9 marca
. Łącznie ośmiu zawodników zmierzy się o awans do wielkiego finału, który zostanie rozegrany podczas Intel Extreme Masters Katowice.



Information:
info write comment not allowed