Archive ESL Europe Poland FIFA14 (FUT) PC
Znamy zwycięzców FIFA14 Ultimate Team PC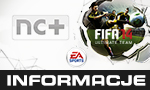 Rozgrywki FIFA14 Ultimate Team PC, organizowane wraz z Electronic Arts i NC+, dobiegły końca! Spośród ośmiu uczestników Wielkiego Finału, najlepszym graczem na platformie PC okazał się Maciej "DominatoR" Zeman - w finale pokonał on swojego rywala wynikiem 2:0 i tym samym sięgnął po główną nagrodę ufundowaną przez NC+. Więcej informacji o przebiegu turnieju znajdziecie w dalszej części wiadomości.
1 miejsce:

DominatoR
-
iPad mini WiFi 16GB + głośniki Creative 2.1 Gigaworks T3
2 miejsce:

Bartas
- głośniki Creative 2.1 Gigaworks T3 + przewodowy pad Xbox
3 miejsce:

Max96
- głośniki Creative 2.1 Gigaworks T3
4-8 miejsce:

bejott
,

mrn
,

5764309
,

Versus
,

RzeznK
- przewodowy pad Xbox
Wszelkie informacje na temat FIFA14 Ultimate Team możecie znaleźć na specjalnie dedykowanej tym rozgrywkom
stronie
- serdecznie zapraszamy!
Na temat NC+:
NC+ to najnowocześniejsza platforma telewizyjna w Polsce, oferująca swoim klientom szeroki wachlarz usług - kanały HD, Multiroom, sport, muzyka oraz wiele więcej. NC+ to blisko 2,5 miliona zadowolonych klientów cieszących się z możliwości śledzenia popularnych seriali, rozgrywek najważniejszych lig europejskich, premier filmowych i kanałów tematycznych.


No comments yet.

Information:
info write comment not allowed