Archive ESL Europe Nordic Counter-Strike
ASUS ENC 2010 over for this time!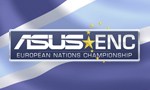 It is the 4th day at Gamescon, and the two last finals in the ASUS European Nations Championship has been played. The ASUS ENC finals ended with five different countries getting their trophy back home! It have been given out a total of €58,750.
ASUS ENC 2010: Counter-Strike (€13,300)


Sweden


Ukraine


Denmark
Sweden wasn't the biggest favourite when they let out stars like

629302
,

2433634
and

475468
for the finals at GamesCom. Momentum were with the swedes though after their impressive win against Denmark yesterday. Today the swedes got to face Ukraine in the final. Before the match, Ukraine looked like minor favourites due to Swedens not ultimated lineup, this did however, not seem to be the case when the final was kicked off.
Sweden, with fnatic-ace

2025172
in the front could seal an impressive 12-3 lead at de_inferno as terrorists. After swapping sides, the swedes made noe extra drama, securing the pistol round, and winning the map with 16-3.
Starting as ct on de_train, or maybe de_awp? The swedes got to win another pistolround, and the importent first ukrainian buy round. This set to give the swedes an extremely good start on the map, and after some great skills from Delpans awp, the swedes got the momentum. Ukraine with

markeloff
in particular, managed to get the game interesting again, when they sealed 4 rounds at the end of the half.
Sweden however made no mistakes in the following pistolround, and yet again they could seal it.

markeloff
and

4360169
figured in the last important 1on1s, but it was the swede that kept his cool, and sealed the win for Sweden.
This was Swedens fourth tilte in the ENC, ESL wants to congratulate with the victory, well played.
ASUS ENC 2010: Counter-Strike Female (€8,300)


Russia


Germany


France
ASUS ENC 2010: Counter-Strike:Source (€11,500)


United Kingdom


Denmark


France
ASUS ENC 2010: QuakeLive (€6,950)


TBA


TBA


TBA
ASUS ENC 2010: Warcraft 3 (€9,350)


Ukraine


Russia


Denmark
ASUS ENC 2010: FIFA10 (€9,350)


Bulgaria


Germany


Romania
Nilsen
, Sunday, 22/08/10 09:21

No comments yet.

Information:
info write comment not allowed