Dota 2 Europe
ESL One New York Open Qualifiers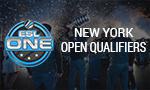 ESL gives you the chance to get a spot on the podium at ESL One New York! There will be 3 Open Qualifiers: EU, US and SEA. From each qualifiers 3 teams will get a slot on the Main Qualifiers, getting one step closer of ESL One NY.
Information about the Open Qualifiers
The ESL One New York Open Qualifiers are an open and free to join tournament, where teams will fight for 1 of the 3 slots available on the European qualifiers and 4 slots on the SEA Qualifiers for the ESL One NY Main Qualifiers. The qualifiers will be held in 2 days: games until RO 16 will be held on Saturday, on the remaining games will be held on the next Sunday.
All the games until RO 16 are Best of One, and the games from RO 16 to the finals are Best of Three.
Sign-up links, dates and rules can be found below.
ESL One New York Europe Open Qualifiers
ESL One NY 2015 Europe Open Qualifiers

Sign up now!

(Check-in: 9:30 - 9:40 CEST)
Check-in is required to participate on the cup

Date: Saturday, August 22nd
Start: 10:00 CEST
Late Sign-up: 9:40 to 10 CEST
Size: Unlimited
Structure: Single Elimination
Rules & Members
ESL One New York SEA Open Qualifiers
Social Media


Information:
info write comment not allowed