$215,000 in the Crossfire Stars 2015 tournament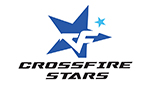 The qualification for the Crossfire Stars tournament is here! If you want your chance at a share of the US$215,000 of prize money that's up for grabs, read on to find out how to sign up, qualify and get one step closer towards the epic 2015 grand final!
How do I qualify for the Crossfire Stars 2015 tournament?
To qualify, all you need to do is take part in the Go4Crossfire cup series during July and August, where you and your team will earn ranking points towards the Crossfire Stars 2015 Europe National Final, where the best team will win a slot in the grand final.

No comments yet.

Information:
info write comment not allowed