Archive ESL Europe Europe
New: Go4 starting now 13:00 with first cups!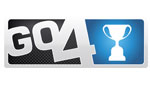 New month, new dates! We rescheduled the FIFA cup, please check for the new date! As every Sunday, you can participate in Europe's biggest cup series featuring various competitions for different games. And the best - you can win yourselves a lot of money! So hurry up and get in.
For any feedback, questions or problems two of our community managers are ready to help you:
Tweet us at
@ESLChris
and
@ESLGravity
Or leave a comment.
gl&hf
pimpen
, Friday, 30/01/15 05:02


Information:
info write comment not allowed