Archive ESL Europe Europe StarCraft II World Championship Series
Visit the WCS EU Finals on May 25th & 26th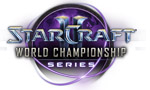 Eight players from seven nations qualified for the first ever WCS Europe Playoffs. On May 25th and 26th all of them will meet at ESL TV Studio One in Cologne to determine the European champion of this season, who receives no only $20,000 but also 1,500 WCS points. Furthermore, the top 5 players qualify for the Season 1 Finals, where they will meet eleven top players from America and Korea.
This weekend James 'Kaelaris' Carrol and Shaun 'Apollo' Clark will welcome you and the top 8 players in ESL TV's Studio One for the playoffs of WCS EU Premier League. Get ready for awesome matches - free in ad-supported 720p HD.

Playoff Schedule on Saturday, May 25th

07:00 EDT QF #1 -

Dmitry '
Happy
' Kostin vs. Dmytro '
DIMAGA
' Filipchuk


08:45 EDT QF #2 -

Dario '
TheLittleOne
' Wünsch vs. Jong Hyun '
7093297
' Jung


10:30 EDT QF #3 -

Pedro '
LucifroN7
' Durán vs. Ji Soo '
fOrGG
' Park


12:15 EDT QF #4 -

Jon '
BabyKnight
' Andersen vs. Ilyes '
Stephano
' Satouri


Playoff Schedule on Sunday, May 26th

06:00 EDT Semifinal #1 for 5th Place

07:45 EDT Semifinal #2 for 5th Place

09:45 EDT Final for 5th Place

11:30 EDT Semifinal #1

13:15 EDT Semifinal #2

15:15 EDT Final
Eight players meet in the Single Elimination bracket. All of them are already qualified for next season's Premier League. Every single match will be played in Best of Five except for the Final, which is Best of Seven. All four losers of the quarter finals will determine a 5th place via their own semi finals and final. The top 5 advanced to the Season 1 Finals.
If you missed a match of Premier League's Round of 32 or 16 or just want to watch some again, you'll find every single match at
wcs.esl.eu/season1/videos/
.
Tickets for WCS Europe Playoffs at ESL TV Studio One
Be our guest and join us in ESL Studio One. Get a ticket for the WCS EU Playoffs on May 25th and 26th and watch the players competing for a playoff spot live in the ESL TV studios. Head over to
wcsfinals.eventbrite.com
, where you'll find more information. Get updates for our ESL TV Studio and ESL Arena shows immediately via
@esltv_tickets
.
To learn more about the StarCraft II WCS, visit
wcs.esl.eu
.
otacon
, Tuesday, 21/05/13 06:37

No comments yet.

Information:
info write comment not allowed