Erste neue Klasse bekannt?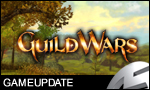 Wie in den Foren von Guild-Hall.net zu lesen ist, wurde in einem Magazin namens Girls of Gaming die Assasine als eine der neuen Klassen vorgestellt. Sie wird dabei laut Aussagen des Artikels sowohl die Kunst der Tarnung, als auch neuartige Kampftechniken in die Welt von Guild Wars bringen. Hier ein kleiner Auszug aus dem Artikel:
"
Introducing Nika, your world-exclusive first look at Guild Wars' next major character profession: the Assassin. With Guild Wars surging past one million registered users in later '05, NCsoft and ArenaNet have a certified smash online hit. Set to debut in the game's massive 2006 expansion, the Assassin profession will add thrilling stealth and combat techniques to Guild Wars' dynamic online gameplay. Nika will represent the assassin in the games popular ongoing storyline and we have another exclusive for Guild Wars fans: the first official guild wars lore for Nika the Assassin, plucked from the pages of the next chapter.
"
Ein Nutzer von Guild-Hall.net hat sich außerdem die Mühe gemacht, die Seiten zur Verfügung zu stellen:
Seite 1
|
Seite 2
(c) 2005
wartower.de

No comments yet.

Information:
info write comment not allowed