Italian Clan Championship 5 - 5° Playday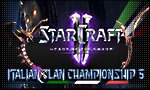 Abbiamo appena passato la prima metà della competizione, andiamo a vedere cosa è successo in ICC5 dopo questa quinta giornata di clan war.
Serie A
La sfida al vertice della classifica vede il team
Old School Clan A
avere la meglio per 4-1 nei confronti dell'ex team Audere Semper, ora conosciuto come
SickControl eSport
dopo lo scioglimento della multigaming e la fuoriuscita del team di SC2. In fondo alla classifica, intanto, importante la vittoria del team
HsDL A
nei confronti degli
Aces Of Spades
, vittoria che li porta fuori dalla zona playout approfittando anche della sconfitta del team
Punk Black Crest
nei confronti dei
NextGaming
, mentre non si schioda il team
HsDL B
affossato dall'ennesimo 5-0, stavolta contro i
Bastardi Senza Gloria
che con questa vittoria si mantengono saldamente in corsa per i playoff.
Classifica Serie A dopo la quinta giornata

Rank

Name

Points
1.
24
2.
20
3.
17
4.
17
5.
16
6.
12
7.
9
8.
8
9.
2
10.
0
Serie B
Anche qui scontro al vertice, con i
NextGaming B
che riescono ad avere la meglio nei confronti del team
MaTriX A
. Nonostante ciò, la classifica della Serie B si mantiene cortissima e tutto può ancora succedere da qui alla fine!
Classifica Serie B dopo la quinta giornata

Rank

Name

Points
1.
18
2.
15
3.
15
4.
15
5.
13
6.
13
7.
11
8.
10
9.
9
10.
6
Serie C
In Serie C, il clan
DoA
continua la sua fuga battendo 5-0 il clan
HoZ
, portando quindi a 5 punti il vantaggio nei confronti sulle più immediate inseguitrici. Dietro comunque la lotta è comunque ancora apertissima tra i team che possono ambire alla promozione.
Classifica Serie C dopo la quinta giornata

Rank

Name

Points
1.
22
2.
17
3.
17
4.
16
5.
14
6.
11
7.
10
8.
7
9.
6
10.
5
Contest - Vinci una Professional Gamer Card!
Per il quinto playday il vincitore del contest è il leader del team
MaTriX
KoWa
che si aggiudica la
Professional Gamer Card
indovinando 11 risultati su 14! Ricordiamo che con questa card è possibile partecipare ai tornei del
Campionato Italiano Personal Gamer
.
Il contest è valido per ogni playday di ICC5, vi ricordiamo le regole:
Ogni domenica, in occasione di ogni playday di ICC5, vi diamo l'opportunità di vincere una Professional Gamer Card, necessaria per poter disputare i tornei di Personal Gamer. Cosa dovrete fare? Vi basterà giocare una sorta di schedina indicando quali team secondo voi vinceranno le loro clan war nella giornata di ICC, chi avrà indovinato il maggior numero di risultati otterrà la card. Per provare a vincere, quindi, vi basterà aprire un support ticket dal titolo ICC5 Contest indicando, di fianco ad ogni accoppiamento, il team che secondo voi si aggiudicherà la clan war, segnando, esattamente come in una schedina calcistica, "1" se secondo voi vincerà il team a sinistra o "2" per il team a destra.


Gli incontri del sesto playday:

NextGaming A vs Aces Of Spades A
SickControl A vs BsG Bastardi
PuNk Black Crest vs HsDL B
Old School Clan Orange vs Old School Clan A
ThunderSheeps vs BsG SpawningPool
SickControl B vs PuNk Purple Crest
EvT A vs BsG SenzaGloria
Matrix A vs Project Bombastic
Aces Of Spades B vs NextGaming B
Matrix B vs EvT B
HsDL C vs DeadOrAlive
IrAx vs Arati
Clan HoZ vs Aces Of Spades Decimo
PuNk Red Crest vs ItalianElite
Per ogni playday di ICC il vincitore di questo contest otterrà quindi in premio:
1 Professional Gamer Card
ICC5 - Il portale
Ricordiamo che potete restare aggiornati su tutte le novità riguardanti l'Italian Clan Championship semplicemente visitando il portale dedicato:
ICC5 - IL PORTALE
Gameaccount
Per partecipare alle competizioni sul nostro portale basta inserire il proprio Gameaccount di HotS da questo link.
Social Network
Rimani informato sulle date, cup ed eventi in programma!
Feedback
Se avete qualche suggerimento - positivo o negativo - circa il nostro operato nella sezione di StarCraft II, siete invitati ad andare nel feedback thread dedicato e lasciarci i vostri pareri.
Siamo alla continua ricerca di admin!
Ti piacerebbe aiutarci nel seguire le Cups, Ladder etc nella sezione di Starcraft II? Sai esattamente di cosa la community di Starcraft II ha bisogno? Allora inviaci la tua Apply ora!

Hall of Fame
| | |
| --- | --- |
| I risultati di tutti i tornei saranno aggiunti alla Hall of Fame di Starcraft 2. Cerca di scalare la classifica per lasciare la tua firma indelebile nella storia di ESL! | |
Per domande, suggerimenti o dubbi utilizzate un Support Ticket.
Il vostro


Starcraft 2 Admin Team.





Titich
, Wednesday, 08/05/13 04:17


Information:
info write comment not allowed