Archive ESL Europe Italy Battlefield 3
Vincitori 5on5 Close Combat Cup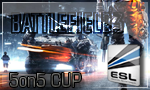 Ecco i vincitori della Close Combat Cup, 5on5 Infantry Only
5on5 Close Combat Cup
Ed ecco a voi il podio...
Bf3 5on5 Close Combat Cup

Il Podio
Al primo posto troviamo il Team
ExAequoitalia
, al secondo posto
No Butter Team eXtra.BF3
, e al terzo posto i ,
No Butter Team Ultra.BF3
!
Complimenti a tutti.
Premi 5on5 Close Combat Cup
Ed ecco i premi per questa Infantry cup:

5x2 mesi premium per il primo Team
5x1 mese premium per il secondo Team
IMPORTANTE:
Per il ritiro dei premium i player vincitori devono aprire Support Ticket entro e non oltre 30 giorni dalla data di uscita di questa news. Scrivendo al suo interno come si sono classificati e linkare quindi il proprio profilo e questa news. Chi non provvederà per tempo ad aprire Support Ticket non riceverà il premio.
Il link per il ticket è il seguente:
Support Ticket
Hall Of Fame
| | |
| --- | --- |
| I risultati di tutti i tornei saranno aggiunti alla Hall of Fame di Battlefield 3. Cerca di scalare la classifica per lasciare la tua firma indelebile nella storia di ESL! | |
Siamo davvero compiaciuti dal risultato di questa infantry cup, la cui partecipazione è stata altrettanto buona, l'iniziativa ha divertito molto e sicuramente non mancheranno altre occasioni come questa!! Continuate a seguirci per ulteriori aggiornamenti!!!
Seguici anche sui Social Network:
Twitter:
Follow @EslBf3Ita
Facebook:
ESL Italia - Battlefield 3
Steam:
Xfire:
Plotone Battlelog:
ESL.it BF3

Il vostro



Battlefield 3 Admin Team.






W4rn
, Wednesday, 25/04/12 16:33


Information:
info write comment not allowed