Archive ESL Europe France World of Tanks
7on7 Cup Series N#1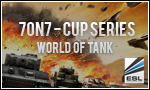 Tous a vos chars T8 et vos petits T1 pour engager ce mois de novembre dans de bonnes conditions !!!
Toujours des golds à la clé !!
Bonne chance à tous !
Infos & Inscriptions
Qualifiez-vous pour la Grande Finale World of Tanks du mois de novembre. Collectez un maximum de points et rejoignez les finalistes le vendredi 03 janvier à 21h00. Nous vous souhaitons bonne chance lors de cette compétition.
Si vous avez des suggestions ou des critiques (constructives) vis à vis des Cups Series World of Tanks, merci de nous le dire en commentaire sur cette news.

Date:
04.11.13,
Lundi
Check-in : entre 20h30 et 20h50
Début de la cup : 21:00

Format:
Arbre simple à élimination directe
Une seule carte jouée par tour
7on7 (Equipe) - Min. 7 joueurs par équipe
Limite de temps : 10 minutes
Récompenses:
1er 7.000
2ème 3.500
3ème 2.100
4ème 1.400
5-8ème 700

Attribution des points
1ère place 100 points
2ème place 60 points
3ème place 40 points
4ème place 25 points
5-8ème place 10 points
Réclamation des golds :
Vous avez une semaine après la fin de la cup pour ouvrir un support de réclamation de golds. Passé ce délai, les demandes de golds seront refusées.

Participer à la cup :
* Important * Validez vos matchs!
Si vous jouez dans cette cup, vous devez entrer / accepter le résultat après le match. Si vous ne le faites pas, votre adversaire ne peut pas passer au tour suivant et il faudra attendre l'arrivée d'un Admin pour valider celui-ci.
Tutoriaux :
Détails de la feuille de match
ci-dessous
! (cliquez pour agrandir)


Votre Staff Admin World of Tanks

No comments yet.

Information:
info write comment not allowed