Archive ESL Europe France Call of Duty: Modern Warfare 2
SoftCup #2 - 3on3 Search & Destroy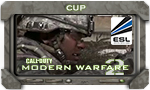 Vous ne savez pas quoi faire se soir ? Alors restez avec nous et venez participer a la cup 3on3 S&D Softcore et peut-être, monter sur le podium. Venez nombreux à 21h...
Configuration de la SoftCup
SoftCup #2 - Search & Destroy


Vendredi 12 Août 21h00
Mod : Search & Destroy
Match : MR 10
Victoire : Premier à 11 Rounds
Overtime : 2x3 Rounds
Screenshots : Résultats
ESL Wire Anti Cheat : OBLIGATOIRE
Steam_ID MW2 : OBLIGATOIRE
Restrictions Armes: Relatif au ladder 5v5
Configuration Serveur : Settings





(Entre 20h00 et 20h45)

Vous avez manqué les inscriptions et le checkin mais vous souhaitez jouer la cup ? Contactez un Admin avant
21h15
pour qu'il vous y ajoute manuellement !
Rappel du planning
Vous pouvez suivre les Summer Cups depuis ces liens:
Les Récompenses
Votre équipe a terminé
5 fois sur le Podium
d'une de nos cup en Team ? Alors, ouvrez un Support en précisant bien les 5 Cups, et vous recevrez :
| | |
| --- | --- |
| 2on2 | 2*1 mois |
| 3on3 | 3*1 mois |
| 5on5 | 5*1 mois |
Les équipes qui termineront sur le podium de nos Cups par 5, 10 ou 25 fois recevront ces Awards grâce à notre
Hall of Fame
:
Enfin, un nouvel Award a fait son apparition : Le Challenge Cup ! Cet Award récompense l'équipe qui est en tête du
Hall of Fame
! Vous voulez ravir l'Award ? Alors il est temps pour vous de participer à nos cups !
L'actuel leader du Hall of Fame MW2 est :
Supports & Contacts
N'hésitez pas à réagir et à poser vos questions sur le
Forum
. En cas de problème, vous pouvez ouvrir un
Support
.


Information:
info write comment not allowed