Paris Games Week, c'est maintenant !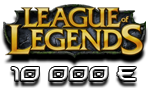 Et voila, nous sommes enfin le premier jour des phases finales du tournoi League of Legends du Paris Games Week. Aujourd'hui nous vous proposons de suivre en direct sur l'ESL les deux premiers matchs de ces finales.
Les matchs de la journée
Match du matin
Match de l'après-midi
Le stream de la journée
Nous vous proposons de suivre les finales du Paris Games Week en direct durant les 3 jours sur notre site via l'ESL TV.
Suivez la compétition en direct sur Twitter & Facebook
Si vous n'avez pas les moyens de regarder les finales en direct sur Facebook, nous vous donnons l'occasion de ne pas manquer les matchs.
En effet pour l'occasion, nous réaliserons un fil info en direct sur les gros moments qu'il y aura dans chaque match.
Il ne vous reste plus qu'à vous abonner [...]
Les dotations de la compétition
| | |
| --- | --- |
| | Tournoi League of Legends |
| 1er | 5 000 € |
| 2ème | 2 500 € |
| 3ème | 1 500 € |
| 4ème | 1 000 € |
Les phases finales au Paris Games Week 2011
Les finales commencent dés aujourd'hui et prendront fin le dimanche 23 au
Paris Games Week 2011
, qui se déroulera à Paris Porte de Versailles ( Hall 3 Stand ASUS / Republic of Gamers "3 B 79"
La Paris Games Week ouvrira ses portes le Vendredi 21 Octobre à 09:00 et se clôturera le Mardi 25 Octobre à 18:00.



PLEIN TARIF semaine

Vendredi
Lundi
Mardi


10,00 €


PLEIN TARIF week-end

Samedi
Dimanche


12,00 €



Paris Expositions - Porte de Versailles 75015 Paris
Hall 3 Billetterie Accès

Le portail de la compétition
Portail Paris Games Week
Notre partenaire
Rejoignez également notre page Facebook et notre Compte Twitter !


Information:
info write comment not allowed