Archive ESL Europe France ASUS European Nations Championship
CSS : France - Danemark en direct sur ESLTV !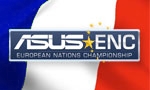 C'est aujourd'hui que rentre en compétition la seule équipe tricolore en lice pour ces ASUS ENC 2010. Nos représentants CSS seront confrontés à l'équipe nationale Danoise. Retrouvez le match sur ESL TV !
France - Danemark
La France retient son souffle, notre line-up de rêve joue sa première demi-finale aujourd'hui. Voici les informations de ce match !
could not load match with id #18966744
Dieums a commenté l'avant-match :

For this semi final we are opposing to Denmark, one of thé more dangerous nation in this ENC.
We Will have to be serious to obtain the victory. We Will try to impose our style during the game. We wish a good and fair game.
Suivez le Match en Direct sur ESLTV !
Le Staff ESL

MortiS
, Thursday, 19/08/10 09:52


Information:
info write comment not allowed