Go4WoT Bronze - Pastures New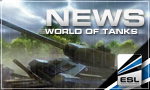 With the introduction of the Silver and Bronze Series there will be changes to Go4WoT starting from the 13.07.2014. Everything from maps to significant rule and schedule changes, find them all below.
The main aim of ESL and Wargaming.net is to integrate the many, many tournaments and cups into one system where everyone can progress from the bottom to the top in as linear and clear fashion as possible.
Clearly Go4WoT is a hugely important tournament to everyone - with the World Champions
Natus Vincere WoT (Go4WoT)
starting their eSports careers right here. We want to maintain this heritage but at the same time bring it a little more in-line with the Wargaming.net League.
Rule changes
No more tier point rule (both 8 and 16).

Map pool changed to the same as the Wargaming.net League (Ruinberg, Ensk, Winter himmelsdorf, Prokhorovka, Steppes, Cliff and Mines).

Format changes
No monthly finals. The aim of the game is to qualify for the Wargaming.net League Silver Series.

If a team is in the Silver or Gold series they cannot participate in Go4WoT.

A Participant can only play in one Wargaming.net League (WGL) region and corresponding Division, Series, League or other tournament that is a part of the WGL. A Team participating in the Silver Series (no regional exceptions) cannot participate in the Bronze Series or any other Silver Series feeder tournament. Gold Series Teams are excluded from participation in the Silver Series, Bronze Series or any other Silver Series feeder tournament.


The temporary (until August) prize distribution per team, per week:
| | |
| --- | --- |
| 1st | 70€ & 8000 |
| 2nd | 50€ & 7000 |
| 3rd | 30€ & 7000 |
| 4th | 7000 |
| 5th-8th | 6000 |
| 9th-16th | 5000 |
| 17th-32nd | 2000 |
| 33rd-64th | 1000 |

Claim your prize winnings via a ticket. Please provide us feedback in regards to the prize money and we will adjust it accordingly.



Wargaming.net League qualification


You can find more information about the Wargaming.net League Europe Season 4 on our dedicated portal also follow us on our facebook and twitter pages to keep up-to-date with all the goings-on.


Other

With so many changes to both the structure, rules, prize money and team landscape we thought it best to reset the ranking completely, meaning every team will start from 0 ranking points.

All of the above starts from the 13.07.2014


Follow us & spread the word

We wish you good luck and have fun playing in the ESL.
Tell us what you think about this news in the comments!


Information:
info write comment not allowed