WGL EU: Silver and Bronze Series *Update*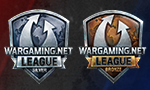 With the start of season 4 of the Wargaming.net League Europe we are happy to announce that the Silver and Bronze series are about to begin. Find out more below.
The top 30 teams from season VI of A-Series will automatically qualify for the Silver Series. Click the images to be directed to the relevant series or league.
The most famous and influential tournament in World of Tanks history of course has its place in this system. The top team every week will take the last slot in Silver. Teams participating in Silver and Gold series will not be allowed to play in Go4WoT (now called Go4WoT Bronze), that goes for all regions of the Wargaming.net League.
Open to all; the perfect place to test your metal, improve and work your way through the ranks. Every week the top 5 teams from Bronze get promoted to Silver, these 5 teams start with the same amount of points as the lowest ranked Silver team.
Click here to sign-up
After battling your way through Bronze you and your team will fight for a place in the Gold Series with the best-of-the-best. Every week the bottom 6 teams will be relegated to Bronze and receive the same amount of points as the highest ranked team in Bronze.
The top 2 teams at the end of the season will directly qualify for the Gold Series whilst 3rd-6th will fight it off against 7-10th of the Gold Series in a relegation tournament.
*Update*
The prize money per week, per team will be distributed as follows:
| | |
| --- | --- |
| 1st | 300€ |
| 2nd | 280€ |
| 3rd | 275€ |
| 4th | 275€ |
| 5th | 250€ |
| 6th | 240€ |
| 7th | 230€ |
| 8th | 220€ |
| 9th | 210€ |
| 10th | 200€ |
| 11th | 190€ |
| 12th | 180€ |
| 13th | 170€ |
| 14th | 160€ |
| 15th | 150€ |
| 16th | 140€ |
| 17th | 130€ |
| 18th | 120€ |
| 19th | 110€ |
| 20th | 100€ |
| 21st-30th | 90€ |
Claim your prize winnings via a
ticket. If you have been playing in Silver Series for the past few weeks simply create a support ticket with your position (for each separate week) and payment information.
Feedback
Please provide us feedback in regards to the prize money and we will consider adjusting it.
There will also be satellite tournaments featuring the same format as Go4WoT, this could include things like regional qualifiers. One Bronze Series slot will be redistributed to these satellite tournaments.
We're always looking to improve what we can offer you guys so we decided to add some spice to the new series by offering money. At the end of every season prize money will be distributed to the teams, more news about this at a later date.
The rules for
silver
and for
bronze
, please read them carefully before signing up.
That only leaves the schedule, which is as follows:
| | |
| --- | --- |
| Monday | 20:00 CEST |
| Tuesday | 20:00 CEST |
| Wednesday | 20:00 CEST |
| Thursday | 20:00 CEST |
| Friday | 20:00 CEST |
We aim to have the first match day on
Tuesday the 17th of June
(17.06.2014) so get signing up!
You can find more information about the Wargaming.net League Europe Season 4 on our dedicated
portal
also follow us on our
facebook
and
twitter
pages to keep up-to-date with all the goings-on.
Follow us & spread the word

We wish you good luck and have fun playing in the ESL.
Tell us what you think about this news in the comments!


Information:
info write comment not allowed