China Steel #1 - NC-31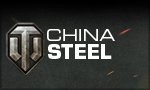 All right commanders,
in this news, you can find all infomation about the upcomming Steel Cup. Which Tank will be played, the Modus and how many gold you can win. No td, spg. 10 Minutes, 5 restricted maps and a lot of enemy tanks await you front to front at the battlefield.
Win gold to dominate your opponents even more and show them who has the better skills! Please ensure that you have read and understood the rules.
Have fun & good luck!
Cup Overview

Date:
12.11.13,
Tuesday

Modus:
Slots: 128

1on1

Single Elimination

Best of 1

Final + third place best of 3

Timelimit: 10 minutes


Allowed Tank: Tier I - NC-31


Country: Only China Tanks are allowed


Battlezone Mod: Download here
Prizes:
1st
7.500
2nd
5.500
3rd
4.000
4th
2.500
5-8th
1.000
Claim your Gold - Deadline:
After the Cup, you have to write your Support Ticket to claim your Gold until Thursday 20:00 CET of the current week. If you don´t do that in this time, it is to late to request you gold for this Cup.
Claim your Gold here!

Requierments:
Entered World of Tanks Gameaccount

Sign Up:
NOW
More reasons to signup this cups ...
With you Cup matches, you can get ESL Awards link this...
Check-In System
In this Cup we'll use the ESL "Check-In System". If you don't know how it works, here's a short explication.
Step 1 - Reservation (green)
Here you can reserve you place in this cup, but you have to affirm your participation later.


Step 2 - Affirmation (yellow)
30 minutes before the cup starts, you have to affirm your participation, if you have done that, you're in the Cup.
Step 3 - Entry (red)
You didn't get a free place in this cup? If there are not enough participants, you can still enter the cup 10 minutes before it starts!
Follow us & spread the word

We wish you good luck and have fun playing in the ESL.
Tell us what you think about this news in the comments!
Venom
, Friday, 08/11/13 00:20

No comments yet.

Information:
info write comment not allowed