7on7 Test Cup Series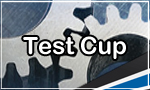 Commanders lock and load for our new 7on7 'Test Cup Series'. It will feature 7 qualifier cups and the final all the cups will feature some of the brand new maps and some new(er) maps that are no longer in rotation; below you'll find all the information about the cup and prizes!
What is the 7on7 Test Cup Series?
We want to test a few maps for the 7on7 mode. Some old and some new maps. Feedback is much appreciated, if you like them then we'll use them more often!
How will it work?
In total there will be 7 different qualifier cups in which you can earn points. If you gather enough points after the 7 qualifier cups, you qualify for the final cup with the 7 other qualified teams.
Points for the Qualifiercups:


1st
5 Points
2nd
4 Points
3rd
3 Points
4th
2 Points
5-8th
1 Point



What format is it?
It will be a 7on7 cup series. Every cup will be played on Tuesday, 19:00 CET.
The Cups:


Qualifier #1:
20.08.13
Cliff
Qualifier #2:
27.08.13
Fjords
Qualifier #3:
03.09.13
Port
Qualifier #4:
10.09.13
Pearl River
Qualifier #5:
17.09.13
Sacred Valley
Qualifier #6:
24.09.13
Mountain Pass
Qualifier #7:
01.10.13
Westfield
Finals:
08.10.13
All Maps - Best of 3



What are the prizes?
Qualifier prizes:


1st
24.500
2nd
17.500
3rd
14.000
4th
10.500
5-8th
7.000





The Finals:




1st
30.000
3 Months ESL Premium (max. 7 keys)
2nd
24.000
2 Months ESL Premium (max. 7 keys)
3rd
18.000
1 Month ESL Premium (max. 7 keys)
4th
12.000
5-8th
7.000



More reasons to signup!
With every Cup match you can get ESL Awards link this...
Facts
Every Tuesday, 19:00 CET

Slots: 64

7on7

Best of 1

Finals and Match for place 3 - Best of 3

Single Elimination

Requierments: Entered World of Tanks Gameaccount (min. 7x)

Win a lot of gold and fame!

Follow us & spread the word

We wish you good luck and have fun playing in the ESL.
Tell us what you think about this news in the comments!
Venom
, Thursday, 08/08/13 16:54


Information:
info write comment not allowed