WoT 1on1 Easter Cup 2013 - The winners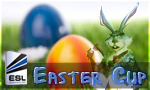 Hello Comanders,
yesterday we had played the Ester Cup 2013 in the ESL and now the winners will award his fame. The first place goes to.... Mekintosz123 he has won 7.500
and the Award, Congratulations! You can see now the Award in your Awardcollection. Enjoy your stay and have much fun with your Gold.
The Top 3 of the WoT 1on1 Easter Cup 2013
The Top 3. get an entry in the WoT Hall of Fame.
Congratulation, Mekintosz123 !
Prizes


1on1 Easter Cup 2013 Award

7337799 is the winner of the Europe WoT 1on1 Easter Cup 2013. He get this ESL Award in his profil. Congratulations!


Thanks for the nice cup.
Follow us on Facebook & Twitter!
If you have any problems or questions, feel free to ask!


Information:
info write comment not allowed