Archive ESL Europe Europe World of Tanks
Battle zone Mod - Restricted Area! Update v4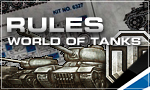 After updating the battle zones and the "Battlezone Mod" we are happy to announce d a new mod that will make life easier in our funcups. The player arti666 made the effort to create a mod that some might have already seen in the ESL CiS section. The mod shows the borders of the battle zones directly on the floor. This means you will always know where the area ends.
This mod was tested by the admin and all agree that it is a nice-to-have for such cups.
The mod was created by the player

arti666
and he got 10.000
for his work and he will support this mod in the future.
The admin team created a short video in which you can see how the mod works and what you can expect. The scenes were created by the players and admins

Venom
and

nadefang
.

Theluchs4363
took his time to cut and polish the video. Take a look at the result!
The Battle Zones
Currently, we have 5 maps in the ESL map pool with restricted areas (so-called battle zones). With this Mod you can see the restricted areas ingame not on your mini map, but directly on the ground of the map. Green lines mark the entry points of the map, while red lines mean that you cannot enter through this route.
The Maps:
Ensk
,
Himmelsdorf
,
Ruinberg
,
Lakeville
and
Siegfried Line
.
Maps with Battlezone

These are the maps used in the Battlezone Mod. If there are any differences between these maps and the maps in the rulebook, the version in the rulebook is the map to abide.


Siegfried_Line:

Lakeville:
Ensk:
Himmelsdorf:
Ruinberg:
How to install:
Save the file in: Hard drive:/Games/World_of_Tanks/res_mods/Version
Follow us & spread the word
Tell us what you think about this news in the comments!
Venom
, Monday, 18/02/13 12:36